Just southwest of Rapid City, South Dakota, lies a unique combination of outdoor splendor. Looking for massive herds of bison? Active prairie dog colonies? Rock-studded lakes? Jagged hills reaching toward the heavens? We experienced all this and more during our trip to Custer State Park.
This was our first time exploring Custer State Park. We love natural places like state parks because they're cheap entertainment that doesn't leave you feeling empty like staring at a TV all day.
Before this year's visit, we'd already been to South Dakota a couple times. The first was just a quick stop by Mount Rushmore during our graduation road trip. The second was during our 2019 trip to every National Park in the US (South Dakota has two: Badlands and Wind Cave).
There are through highways crossing Custer State Park, so you can actually see some of its sights from the road without a park pass. However, if you're planning to take the more scenic park roads, or if you want to stop and hike, you'll need a park permit (which is just a window sticker you buy upon entry). It covers a full carload of people and lasts for seven days — giving you more bang for your buck if you're in a bigger group or planning to stay a while.
Nestled in the Black Hills, Custer State Park spans a whole bunch of different landscapes, all worth a visit. In the south, there's a mixed grassland prairie, where you'll find grazing bison and pronghorn. As you head north, the terrain begins to change. Sharp rocks emerge from the forest, and with each switchback, you'll find yourself tightly squeezing between their narrows.
Spot Prairie Animals on Wildlife Loop Road
Encountering wild animals is always my favorite part of every park, and it's easy to get up close and personal with the South Dakota natives on Wildlife Loop Road. You're not really supposed to feed wild animals in any parks, but oddly, Custer State Park rangers didn't seem to care when they saw people feeding the wild donkeys from their cars.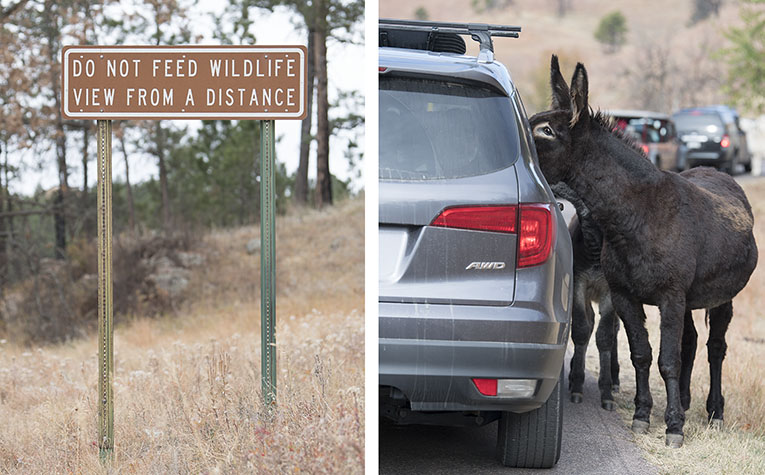 There's a huge herd of bison — about 1,400 strong — that lives in the prairie area of Custer State Park, but I wouldn't recommend trying to get close enough to feed them. We missed the annual Buffalo Roundup by a couple weeks, so only a few bulls were still out roaming around freely. The rest of the herd was corralled and still visible from behind a small fence. There are some parking spots nearby, so we were able to walk up the hill to where they were huddled for a closer (and safer) look.
During our drive of the 18-mile Wildlife Loop, we also saw pronghorn, deer, and a prairie dog colony. Lots of people parked and approached the prairie dog mounds, forcing them to retreat back deeper into their colony. When that happens, it's kind of a bummer for everyone. If you want to be able to see (and hear!) the prairie dogs, just park, roll down your windows, and wait. Soon enough, their curiosity will get the best of them, and they'll venture closer to you. It just takes patience.
We also stopped at Prairie Trail to hike the quick, 3-mile loop. There are some moderate elevation changes, creek crossings, and exposed roots on the trail, but overall, it's pretty easy. We saw more deer and an entire flock of turkeys. About three other hikers were on the trail with us around midday, and several more cars than that were in the parking area (probably because there's a vault toilet at the trailhead and not many other places to stop if you have to pee during your drive on Wildlife Loop Road).
Needles Highway Has the Best Views in the Park
Take South Dakota Highway 87 north through Custer State Park, and you'll find yourself on the scenic Needles Highway, which offers sweeping views of the Black Hills and even a few (very distant) glimpses of Mount Rushmore.
There are a couple of short tunnels on this winding 14-mile road, so make sure your vehicle can clear them easily. A tour bus came pretty close to getting stuck in one ahead of us, and a pickup truck had to tuck in its side mirrors to squeeze through, but our tiny camper van was totally fine. For reference, the smallest tunnel on the drive, the Needles Eye Tunnel, is 8'9″ (2.67 m) wide by 9'8″ (2.95 m) high. There are some switchbacks on the route too, so I'd be wary of pulling a tow trailer.
What was most remarkable about this drive was seeing the landscape shift and change — from open prairie and meadow, to pine and spruce forests, to these tall granite spires jutting out of the ground. The meandering drive takes you around and through these granite "needles" as you make your way to Sylvan Lake. It looks completely different (and way cooler, tbh) than the south side of the park.
In trying to avoid all the cars pulling off to park nearby, we ended up not stopping for the Cathedral Spires hike. But the 1.5-mile one-way trail in and out of the needles off the highway looked pretty dope from the road. If you accidentally pass the trailhead like we did, don't worry — it's part of the longer Trail #4, which connects at Sylvan Lake. You can pick it up there and follow it back toward the spires.
When we got to Sylvan Lake, the parking area was surprisingly packed, especially considering that the lodge was closed and the weather had gotten cooler up in this mountainous area. We opted to quickly walk the one-mile loop trail around the lake and get back in the van to turn on the heat. By the time of our mid-October trip, a lot of the camping and lodging options had closed for the winter season, but Sylvan Lake Shore Trail was still bustling with visitors. For good reason though — it's a beautiful area with lots of little side hikes onto the granite boulders.
Make the Most of Your South Dakota Adventure
Custer State Park acts as the glue for a few different attractions in South Dakota. It's situated in the Black Hills National Forest, home to the tallest mountain in the state, Black Elk Peak. On the outskirts of the park are two other popular stops: Mount Rushmore National Memorial and Crazy Horse Memorial. They're both pretty quick visits, if you ask me. You might just do a quick drive-by or skip them altogether (you can actually see both rock carvings from the road).
Wind Cave National Park is a cool place, but it doesn't look much different above ground than the south end of Custer State Park. In fact, you might not notice a difference as you cross from one park to another — it's all prairie. What's drastically different is underground. Just know that if you want to go into the caves of Wind Cave National Park, you'll need to book a guided tour ahead of time. Jewel Cave National Monument is also located in the Black Hills just south of Custer State Park. We didn't do a tour at Jewel Cave, but it's another great place to see some unique formations outside of Wind Cave. One cave tour at either park is probably sufficient.
Another nearby place I highly recommend you check out is Badlands National Park. It's about an hour and 20 minutes east of the Black Hills area, but it's SO MUCH COOLER than everything else in South Dakota. While you'll find some similar animals at Badlands, including sheep, bison, and prairie dogs, you might also find fossils on your hikes! The main road through the park offers amazing views and access to some of the best trails. Those trails are over by the visitor center, where huge buttes and pinnacles emerge. Trust me that it's worth the visit.
Contrary to what you'll read on the 80 million highway billboards leading up to it, something that's probably not worth visiting nearby is Wall Drug. It's located at the same exit as Badlands National Park, but it's little more than a tourist trap.
While there are a ton of camping and lodging options in Custer State Park and the Black Hills more broadly, keep in mind the seasonality of this area. Peak season for South Dakota tourism is from Memorial Day to Labor Day (basically May to September). Any time outside that window, you may find some lodges closed and many campgrounds without water due to freezing overnight temperatures in the late fall and winter. It's a really popular area, so try to go early or late in the season — and on weekdays — to have more of these places to yourself.
Every time we've visited South Dakota, it's been part of a larger road trip, so we've always ended up spending some time in Rapid City. We like it because there are all kinds of restaurants (for when we need to do some remote work) and plenty of hotels (for when the weather is too cold to sleep in our van). Rapid City serves as the gateway to almost all of South Dakota's best attractions, so it's a great place to come back to if you want more amenities. Just make sure you spend more time out exploring and less time in the city!
— Lauren