As we were shutting the door on one chapter of our lives — college — we were opening another without fully realizing it. Our graduation ceremonies were held the first weekend in May of 2012. The following Monday, we buckled into our 2005 Honda Civic to take our first cross-country road trip together.
The plan was simple: We'd leave from Florida to head west toward California. We'd never been further than New Orleans together before, so everything past Louisiana would be uncharted territory. Steven had been accepted into a physics Ph.D. program at the University of California, Irvine, so we wanted to check out the town we'd be moving to in the fall along the way.
From California, we'd head north toward our turnaround point of Prudhoe Bay, Alaska, which borders the Arctic Ocean(!). We'd come back down through Canada, meander our way to Niagara Falls, ride down the East Coast to visit the Florida Keys, and from there take a 5-hour drive back to our hometown to put it in park for the rest of the summer.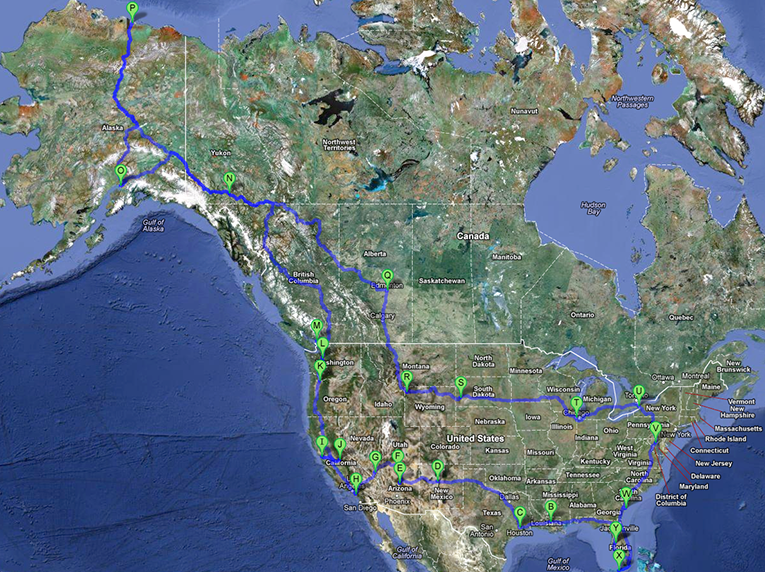 We weren't really sure how much time our road trip would take when we started, but we knew we'd be burning cash every day to make it happen, so it needed to be fast-paced. Altogether, we drove 17,000 miles (that's nearly 70% of Earth's circumference, for reference) to get from Florida to Alaska and back, with more than a few pit stops along the way — a journey we completed in 45 days.
First Taste of Freedom on the Road
While this was a trip of many firsts, the life-changing part about it was discovering what it felt like to be free from responsibilities and to actively choose what we wanted to do with each day. This was really the first time either of us had that luxury.
We'd just graduated, so we didn't have any school work to complete. Our freelance photography was on hold while we were on the road, and I quit my job at the local newspaper since we were moving soon anyway. Every day, we got to wake up and decide what came next. It was our first time seeing real cacti, huge mountains, and, well, most of the country. Wanna take a detour to drive Route 66 for a bit? Sure! Wanna duck into this city we've obviously heard of but never been to for a bite to eat? Of course! This was freedom.
While this trip cost us some cash at a financially crucial time in our lives, it also changed our entire mindset on what life can be. It's something that you don't really realize is missing until you finally experience being untethered for the first time. We felt absolutely free, and that was a feeling we'd take home with us and yearn for in a way we never had before. It would become a huge part of our later motivation to save a lot of money. If you think travel isn't for you, I'd say don't believe that until you've tried it this way.
Falling in Love With the West
You might be wondering how we had time for much of anything while traveling an average of 375 miles a day, but you have to remember that we were wide-eyed 22-year-olds, and just looking out the window is magical when everything is brand new. Also, years spent staying up late studying for exams had mentally prepared us for some long driving days. Occasionally, we'd take turns at the wheel to drive for 10-20 hours at a time. Those big spurts gave us enough free time to slow down and spend a day or two at certain places when we felt like it.
Before we ever left, we made a list of a few iconic destinations to check out. It wasn't a detailed plan (we're not really into those), but it gave us a little bit of direction. We'd grown up with Kennedy Space Center just a few hours away from us in Florida, so we made a point to visit the Johnson Space Center in Houston. We toured mission control and saw some of the coolest achievements humanity has ever produced, like the Saturn V Rocket.
Another somewhat nerdy stop we made was the National Radio Astronomy Observatory's Very Large Array (VLA), about 50 miles outside Socorro, New Mexico, on the Plains of San Agustin. The open plains stretched on for miles, with nothing and no one to keep us company — except the cows. Okay, so, the other thing you can't miss are the 27 massive 100-foot dish antennas pointing up toward the sky. Think about the satellite dishes you've seen on people's houses, and then super-size them to be several two-story houses tall. They completely dwarf you when you get up close to them. We watched a documentary in the visitor center, which is narrated by none other than Jodie Foster (who made the VLA famous in the 1997 film, Contact), and basically had the whole place to ourselves.
We also stopped into several National Parks, mostly picked by name recognition. The Grand Canyon, Yosemite, Denali, and Yellowstone were all breathtaking for us as first-timers. These few short visits are ultimately what excited us about American parkland and inspired us to visit every National Park in the United States in 2019. Other than the Great Smoky Mountains, we hadn't seen much else in the park system at this point in our lives.
While we were near the Grand Canyon, we popped over to spend some time in Las Vegas, another first, and it quickly became one of our favorite cities. Orange County, California, the place we'd be moving to in the fall, turned out to be a quick, 4-hour drive from there, so that's where we headed next. Southern California completely captivated us and stole our hearts. The views were amazing, the weather was perfect, and there was tons of vegan food. We'd heard that the Pacific Coast Highway was the drive in California, so that was on our list too. And it did not disappoint.
Big Sur, the roughly 90 miles of coastline stretching from San Simeon to Carmel, remains one of our favorite places of all time. We must have pulled into every overlook on this trip just to take in all the wonder that this area possesses. The mountains here tumble into a raging blue ocean, leaving behind winding, jagged cliffs. The sweet smell of wildflowers blooming along the coast is carried to you by a cool breeze that can whip into a furious wind at a moment's notice, taking your breath away. I had no idea how beautiful our own country was until we took this drive, and it definitely lived up to the Decemberists track inspired by it.
We continued north until we found ourselves in a strange new world: Portland, Oregon. Everyone in this city is a character, we found out (just like in the show, Portlandia). When we first arrived at our fancy downtown hotel, it was full of what can only be described as a horde of convention goers. Except there was no convention. We made our way up the elevator and through the weed-scented halls of the Marriott to our room. The next day, we ventured out and found the best thing to do in the city: people watching. We just walked block after block, taking it all in — the guy handing out roses to random passersby, the cop busting the guy dressed in head-to-toe pot leaves, the line for VooDoo Doughnuts wrapping around the building. There was a lot to see, and it was all so different.
The Wild Drive to Alaska and Back
Just when we thought we'd seen it all, we ventured into the absolute wilderness of northwestern Canada as we made our way to Alaska. Here, we traded the ocean for even taller mountains, snow capped and stunning. We were alone — no restaurants or hotels or gas stations for miles at a time — with zero distractions. And, no matter what direction we faced, the landscape looked like it could be the front of a postcard. Greetings from…nowhere.
When we got to Alaska, our big goal was to reach Prudhoe Bay on the absolute northernmost coast of the continent. Not because there was anything there we needed to see — but just to say we did it. One mostly gravel road leads from Fairbanks, an actual city, to Prudhoe Bay, a primitive development for oil workers, and it's generally only traversed by truck drivers on supply runs.
Against all advice, we took our Civic on this 496-mile "road" called the Dalton Highway. About halfway through, there's a truck stop that offers gas, restrooms, lodging, showers, and food — all in one place. You have to get gas there, and yes, it's expensive (around $6/gal at the time). When you get to Prudhoe Bay, there's one more gas pump to get you back down.
What's most remarkable about this drive is the silence and splendor of pure nature. Arctic ground squirrels and herds of caribou took turns crossing our path at their leisure. As the Dalton took us north past the Arctic Circle, we traveled along the border of Gates of the Arctic National Park, catching sweeping views into this preserved wilderness. On the other side of the road, a pipeline zig-zagged the full length of the Dalton—- the only reason the road really exists in the first place. Trekking further north, the landscape began to change.
About 30 miles from the coast, we entered a dense fog. At the edge of the highway, thick ice was coating the ground and stretching out over the land. No more sunlight, nothing left to see. When we got to Prudhoe Bay, the weather was completely different — dark, damp, cold. We changed into warmer clothes and took a brief tour of the bleak, icy shoreline. The journey was a thousand times better than the destination.
Heading back down from Alaska through Canada was mostly a repeat of the drive up, which was still enjoyable, but we were ready to see more newness. There were a few places we felt we had to go to because they're considered national landmarks. Our next stop was Mount Rushmore, which we arrived at overnight. As the sky brightened before sunrise, we decided to try to take some pictures from the road. The security guard spotted us and stopped to see what we were up to, so we told him all about our trip. Because we were nice, he offered to let us in.
Even though we got to go in before the park opened — for free — it was honestly sorta disappointing. It was nice to check it off our list, but we were glad we didn't pay for tickets. We made our way back to the East Coast, and the next stop happened to be another letdown. Niagara Falls was impressive to watch as the water rushed over the edge and plunged 160 feet below, but the area itself felt mostly like a tourist trap (particularly on the Canadian side). Back on the road.
We started to cross into familiar territory around Washington, DC, as we made our way south. Once we started to see boiled peanuts for sale again, we knew we were getting close to home. Picking up the pace, we decided to drive all night and catch the sunrise in Tybee Island, Georgia, a spot Steven's family frequented for summer vacations. The cool evening colors melted away as the sun inched up over the horizon, casting warmth and light in every direction. The salty air hung heavy around us despite the sea breeze. We were definitely back in the South.
Our final destination on this trip was another really awesome first experience for us: The Florida Keys. Yeah, I know it's kind of pathetic that we grew up in Florida and had never made the time to drive down there, but it's pretty out of the way. Finally taking the Overseas Highway down to Key West was well worth it, though. The 113-mile highway stretches from Key Largo to Key West and connects the Keys to the rest of Florida. There's a lot of great snorkeling off Florida's southern tip, which is home to the only living coral barrier reef in the continental US (the third largest in the world), but the drive itself is just really striking as you hover over the ocean hopping island to island.
Our Biggest Travel Hacks for This Trip
Arguably, the biggest money saver for us on this trip was our hotel hack. Before we left, my cousin, who worked for Marriott at the time, offered to get us friends and family vouchers for our 30-plus hotel stays. There aren't any limits on the vouchers, except you have to know when and where you're staying each night ahead of time. When my cousin told her manager about our loosely planned trip, she decided it was too much paperwork and instead gave us an even better deal.
My cousin's manager made Steven an honorary Marriott employee, issuing him a little blue card that would grant us an even deeper discount on the fly. With this employee discount, we were able to score nice hotel stays in any city for about $30-60/night. What we didn't know about this insane deal was how many times we'd have to awkwardly answer the question, "Oh, what do you do for the company?"
While we spent the majority of our 45-day adventure sleeping in hotels, 16 of those 45 nights were spent in our Honda Civic, especially in the most remote areas. We'd just pull off the road sometimes and recline our front seats to a position comfortable enough to catch a few Zs. It was fine for a couple of college kids, but we like our camper van a little better these days, and we've since become pros at finding places to sleep for free.
Not having hotels for days at a time meant we also had to figure out little hacks to make do, like how to get a shower when we were in the middle of nowhere and how to save on meals. We used a little propane burner (affiliate link) to heat up food on the side of the road and found ways to save big on eating out along the way.
This trip ended up showing us how doable "living on the road" could be, which stoked our creativity for future trips and helped us approach new travel ideas without fear later on.
Maybe Not the Smartest Money Move
Was this trip totally awesome? For sure. Do we recommend others take time to explore on their own terms when they find themselves similarly untethered? Definitely. Was it the best financial decision we could have made right out of college? Probably not. But that doesn't mean we regret it.
The total cost of the trip was about $8,500, including hotel stays, gas, and food. And for a 45-day vacation, that's pretty pricey, especially considering that it was probably like 35-45% of our combined net worth at the time. We felt okay about spending the staggering $185/day on this trip because we were debt-free, still had savings left over, and knew we'd have a guaranteed income again in a few months (Steven's grad school program was offering him a stipend to attend). But still, blowing a big chunk of our savings on a vacation stung a little, which inspired us to learn how to travel for a lot less money later in life.
We felt it was important to pause before turning the page into our newest chapter — adulthood — so we could see a little more, experience a little more, and know a little more. We didn't expect this trip to change our entire mindset on life, but it did. Going on this adventure gave us the motivation to create a life we loved, not just one week out of the year, but every day.
If you find yourself in a decent financial position at a young age, you owe it to yourself to get a small taste of total freedom so you can find your own reason to save money for years to come. If you're not in that comfortable position right now, whether saddled with student loan debt or just lacking savings, set a goal and race toward it. Then, consider giving yourself a break with a trip like this before barreling full-speed toward financial independence and a life full of what you decide is important. Sometimes, a little perspective is worth it.
— Lauren