This page is a giant, curated list of stuff that's made our lives better. A lot of it is free, but the things that do cost money are worth every penny. It's all sorted into four major categories:
Money | Travel | Lifestyle | Books & Media
Some of the links on this page are "affiliate links," meaning we'll get a small commission if you make a purchase or sign up for services through them. In the interest of keeping our recommendations unbiased, we dedicate 100% of our profit from these affiliate links to charity. Stuff only goes on this list because we really like it — not to make us a fast buck (learn more).
Last major update: January 8, 2023.
Financial Products and Services We Recommend
Note: We are not financial advisors. We're just a couple of bloggers honestly sharing what has worked for us. This page contains personal opinions for your consideration, not professional financial advice. Check out our Disclosures page for more information.
Credit Cards
Cards with High Sign-Up Bonuses (for Churning)
Detailed explanation: We Signed Up for 40 Credit Cards and Made $20,000 Doing It
There are about a zillion credit cards that are great for churning. Just look for high bonuses net of fees (preferably in the form of cash), and you'll be good to go. Here are a few cards we've used ourselves that consistently have great bonuses.
Chase Sapphire Preferred — This is THE definitive card to start with if you're new to churning. The bonus changes all the time, but historically, it's always represented a net profit of at least $545 in cash, after accounting for fees.
Chase Ink Business — Typically has an even higher cash sign-up bonus than the Chase Sapphire Preferred, but you can only get it if you're a business owner. There are multiple flavors of this card, so if you're a churner, you'll just pick whichever one is currently offering the largest bonus (net of any fees).
IHG Rewards Traveler — Pretty big bonus for a card with no annual fee, which means you don't have to worry about canceling or downgrading. This card also has no foreign transaction fees, so you can keep it around for when you travel internationally even after you've extracted the bonus. Unfortunately, the rewards come in the form of hotel stays rather than cash.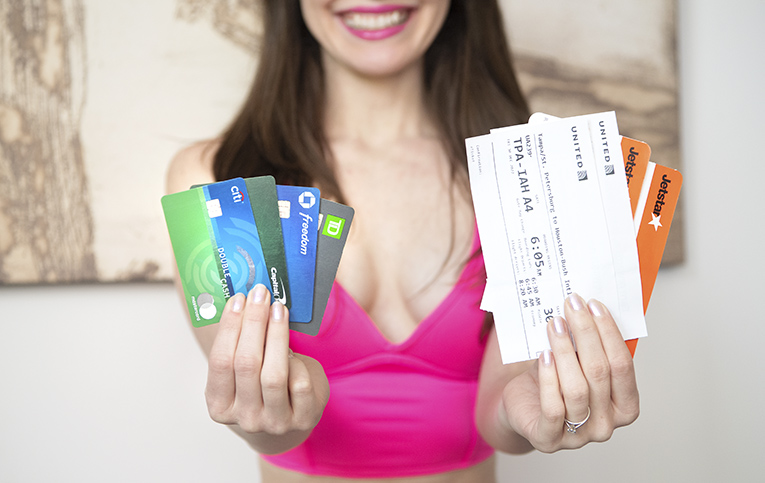 Cards with Good Rewards and No Annual Fees (for Long-Term Use)
Detailed explanation: The Autopilot Guide to Credit Cards
Citi DoubleCash — If you only get one credit card in your entire life, let it be this one. It's our default card for everything when we're not churning. A straightforward 2% cash back on all purchases makes your life very simple.
Chase Freedom Flex — To boost your cash back and complicate your life a little, you can keep this card in your wallet to use specifically for its rotating 5% cash back categories, whenever the opportunity arises. Comes with a little sign-up bonus for your trouble, too.
Checking Accounts
Chase Total Checking — The most important feature of a checking account is convenience. Chase has zillions of branches and ATMs in the US, and their customer service is actually pretty good for a giant, faceless corporation. This account typically comes with a cash sign-up bonus, too.
High-Yield Savings Accounts
Detailed explanation: Earn More Interest with the Highest-Yield Savings Accounts
Barclays Online Savings — A solid, risk-free place to stash your emergency fund with an excellent track record of consistently high interest rates and no fees for normal use.
Ally Online Savings — Ditto. Another great option with the added bonus of allowing custodial accounts for minors.
Investing/Brokerage Accounts
Detailed explanation: Picking the Best Brokerage Account — What Really Matters
Fidelity — Our favorite brokerage firm overall, with a super intuitive website and the unique option of opening a Health Savings Account (HSA) to pair with a high-deductible health insurance plan (in addition to all the normal account types).
Vanguard — Probably the most-recommended brokerage in the FIRE community, although their website and mobile apps are a bit clunky to use.
Charles Schwab — Another great brokerage with all the same features and low fees as the rest.
Index Fund Investments
Detailed explanation: How to Invest in Stocks: The Easiest Way is The Best Way
The index funds below are managed by Vanguard. Near-identical funds from Fidelity, Schwab, BlackRock, and others exist too, and they're just as good as these.
Since these are ETFs, they can be traded commission-free at almost any brokerage (not just inside a Vanguard account), but you can also get them (and their clones) in mutual fund format if you prefer, which is totally fine too.
If you're curious how we've combined these personally, feel free to take a look at our own investment portfolio.
Trackers and Calculators
Travel Gear and Services We Recommend
Laptops
Detailed explanation: What to Look For in a Laptop — And How to Make It Last
Lenovo ThinkPad X1 Carbon (Amazon | eBay) — This computer comes in various generations with different specs, and the one you choose will depend on your specific needs, but if our old ThinkPad X220 ever quits working, we'll be replacing it with a lightweight, durable X1 for at least another decade of travel.
MacBook Air (Amazon | eBay) — Apple hardware is always a bit overpriced compared to its competition, but these laptops are also very high-quality, lightweight, and durable. If you're a die-hard macOS user, the Air is a fine choice for a travel computer, even though it probably wouldn't be our personal first pick.
Cameras and Lenses
Detailed explanation: Camera Buying Guide: Best Cameras & How to Get Them Cheaper
We personally shoot Nikon, so we really only keep up with the specifics of their equipment line. But for the record, there's nothing wrong with Canon, Sony, or Olympus gear; we just don't know enough about those brands to make recommendations.
By the way, mirrorless cameras are clearly the future, and new DSLRs are no longer being designed…But that's exactly why you should consider buying a DSLR: Really nice models are getting cheaper by the minute!
Full-frame Nikon Mirrorless Cameras
Full-frame Nikon Mirrorless ("Z-mount") Lenses
Full-frame Nikon DSLR Cameras
Nikon D850 (Amazon | eBay) — A great camera all around. Still available brand new, but it's much better to buy used on eBay for a deal.
Nikon D700 — The absolute cheapest model you can get with a full-frame sensor. It's a pretty old camera at this point, so you'll have to buy it used. Note that it only shoots stills (no video), but it does a great job even by today's standards. Perfect low-budget option.
Full-frame Nikon SLR ("F-mount") Lenses
Cables, Adapters, and Power
Retractable Multi-USB Charging Cable — The last USB-A charging cable you'll ever need! Plugs into a standard USB-A port and charges through all four small connector types: USB-C (new Android/new iPad), Apple Lightning (new iPhone/old iPad), Micro USB (old Android), and even Mini USB (old BlackBerry and other strange devices). Capable of charging more than one device simultaneously, but does not support data transfer.
Baseus 65 W Charging Station — An extension cord, power strip, and USB (A and C) charging station combined in one tiny package. Includes enough USB-C power to charge large electronics like laptops, too. This one item replaced three separate devices in our travel bag.
ALLWEI International Travel Adapter — Plugs into nearly any power receptacle on Earth and turns it into two standard USA/North America 110 V outlets, plus three USB-A charging outlets and one USB-C charging outlet. This single device solves your power problems in every country (even the high-voltage places, like Australia). 230 W max output (which is more than we've ever needed).
Camping and Vanlife
Hotels
Detailed explanation: Want the Cheapest Hotel Booking Site? It's All About Rewards
Hotels.com — Almost every hotel booking website has the same prices and the same listings, but Hotels.com has the best rewards program. You get a (nearly) free night for every ten you purchase, on top of whatever you're already earning with your credit card.
Airbnb — It's less affordable than it used to be, but Airbnb is still worth checking for unique listings that are unavailable elsewhere.
Air Travel
Google Flights — Lets you build your own route using multiple departure and arrival airports for every airline, all in one place. We use the calendar view to locate the cheapest dates to fly.
Way (Product Review) — A website that connects travelers to super cheap long-term parking spots near airports (often with shuttle service included). Never pay full-price for airport parking again!
Home and Lifestyle Stuff We Recommend
Bicycle Accessories
Detailed explanation: How to Buy a Cheap Bike That Will Last Forever (+ Accessories)
Batteries
Eneloop Rechargeable Batteries — Better than alkaline batteries because you don't have to throw these away and waste money buying new ones all the time. Better than traditional Ni-Cd and Ni-MH rechargeable batteries because these don't discharge while idle, so they're always ready to go when you need them.
Powerex 8-cell Smart Charger — While most AA/AAA battery chargers treat battery cells in groups of 2 or 4, this one charges each cell individually, meaning they'll never be over- or under-charged. The "soft charging" mode also helps extend the lifetime of your batteries.
Free TV Services
Detailed explanation: Cut Your Cable and Streaming TV Bills to $0 Forever
Books and Media We Recommend
Books
Blogs, Podcasts, and Social Media Accounts