My bicycle is one of the best investments I've ever made. It's allowed me to breathe more fresh air and experience more sunshine while I explore my own backyard. It's made my heart stronger, kept me from gaining weight, and given me a weekend activity to enjoy with my dad and my wife.
Aside from providing me with something healthy and fun to do, cycling has seriously fattened my wallet. Because of my bike, I was able to commute to and from work every weekday for over seven years, rescuing tens of thousands of dollars from the motor vehicle money pit.
My bike is so valuable to me that even if we lived in some alternate universe where all bikes cost $5,000, I would have still bought one without blinking. Fortunately, in this reality, you can get a great bike that will do all of the above and more for one twentieth of that price. You just have to know where to look, which is why I created this bicycle buying guide.
If you already have a bike you're happy with, lucky you! Skip to the end of the article, and you'll find a curated list of the best bike accessories — and an honest look at which ones you can do without.
How Much Does a Good Bike Cost?
One common misconception about bike prices comes from the sporting goods section of Walmart. If you take a walk down that aisle and glance at the price tags, it will seem possible to buy a brand new, fully assembled adult bike for $99. We love Walmart for its unbeatable grocery prices, but unfortunately, they don't sell many real bicycles. They sell a lot of heavy objects that seem to function like bicycles until they start to fall apart a few months later.
Another popular misconception is at the other end of the spectrum: When you ask someone who's really into cycling about their rig, you'll invariably hear the details of their $2,000 carbon fiber road bike, or something similar in the 4-digit price range. It's sure to be a great bike, but it's also way more than you need to pay if you're not a professional racer.
Bikes are pretty simple pieces of machinery. When you buy one that's built right and maintain it, a bike can last many decades. The corollary is that an old, used bike can ride just as well as a brand new one. So why pay full price when you don't have to?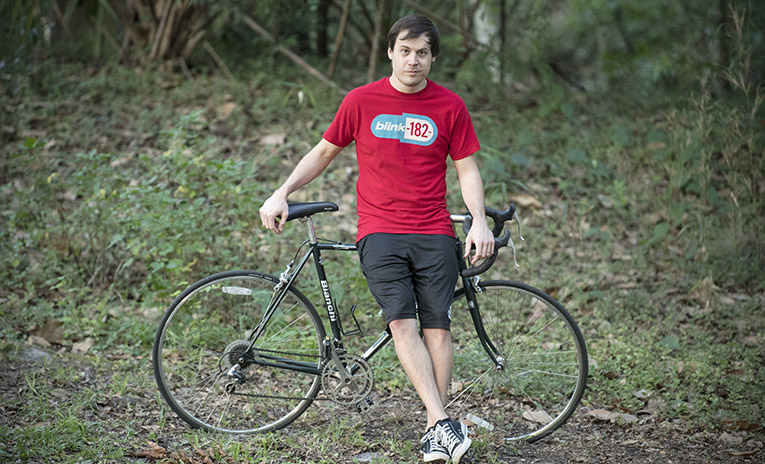 As a general rule of thumb, you can get a really nice, long-lasting used bike in the $200 to $400 range. A brand new bike with similar build quality and features should run you around $500 to $900. Any less and you're probably looking at a piece of junk. Any more and you're paying for pro-level features that will make no difference to the average commuter or pleasure rider.
The first bike I picked out myself cost $500 brand new. Since well-built bikes are supposed to last forever, you might be wondering why I don't still have it. That's because it was stolen. And so was the bike I bought after that. If you ride a lot, theft is the single most likely reason you'll get rid of any bicycle, which is another motivator to opt for less expensive used bikes — they're more affordably replaced. I'll get to some suggestions for bike locks later on, too.
Another reason I really like used bikes is that, once they've depreciated in price by being classified as used, they don't depreciate much more over time. When Lauren and I have sold used bikes in the past, we've always been able to recover 100% of our original purchase price! That means you don't have to feel obligated to load them up with you during long-distance moves or store them during travel sabbaticals — just sell your used bike and buy another one later on.
What Type of Bike to Get (and Red Flags to Avoid)
Aside from niche models like fat bikes, e-bikes, and one-speeds, there are three basic types of bicycles to consider:
Mountain bikes typically have thicker, knobby tires and a shock-absorbing suspension, suitable for riding off-road. Their handlebars are usually straight and horizontal, and the rider is seated upright.
Road bikes have thinner tires and tend to be lightweight with no suspension, built for maximum speed and efficiency on pavement. Their handlebars are often curly-shaped (that's called a drop bar), and the rider is usually leaned forward.
Hybrid bikes have some combination of mountain bike and road bike features. They're meant to be ridden on concrete most of the time, but they can be taken off-road in a pinch.
For whatever reason, a lot of people are initially drawn to mountain bikes. But if you plan to ride mostly in your neighborhood or around town, they're not a great choice. When you ride a mountain bike on pavement, you'll have to exert more energy overall, which will tend to tire you out faster. Only buy a mountain bike if you intend to ride on dirt or grass very frequently.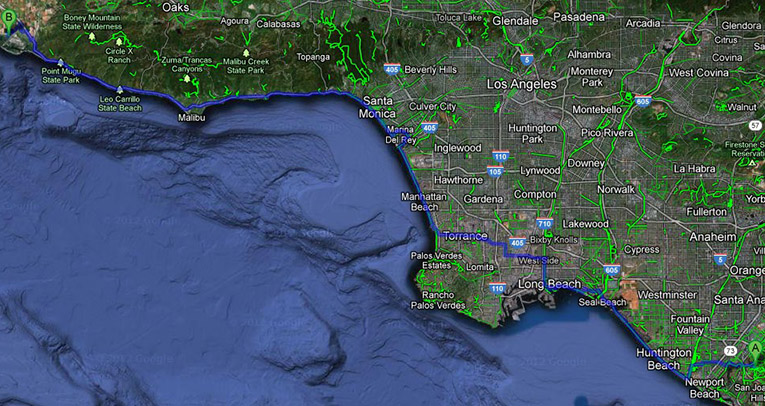 When picking out a bike, consider what features are really important, and focus on those few things. For example, the weight of a bike makes a huge difference in how much energy it takes to ride — a low weight is one of the main things I look for.
But when you start adding on features, like a suspension or disc brakes, those things add weight. And the lightweight bikes that do have those things cost a fortune. How many gears do you really need? For most people, a 10-speed bike provides plenty of granularity in pedaling torque. So if the bike you're looking at doesn't have 21 speeds, don't sweat it!
Along the same lines, watch out for bikes that are overly "cute." If a bike comes with vintage tire fenders, decals, a horn, and a big basket, chances are good that you're paying for aesthetics and extra weight rather than a good ride and quality parts. Less is more.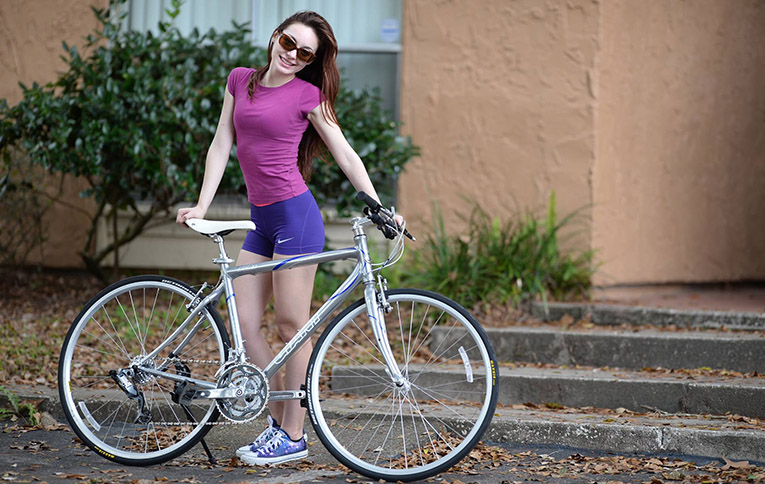 So, which are the best bike brands to look out for? We've personally had great luck with bikes by Bianchi, Cannondale, Giant, Specialized, Marin, Kona, Scott, and Trek. But for the most part, any of the brands that sell into professional bike shops are pretty good. Beware of Schwinn, Mongoose, Huffy, and GMC. In the past, they have sold some nice bikes into cycle shops, but they also sell a ton of crappy bikes through stores like Walmart and Target.
Where to Buy a Bike
I've made it pretty obvious that I don't recommend buying a bike from the big box stores, and that you can get a lot more bang for your buck with a used bicycle. So, where should you look?
First and foremost, give your local bike shops a chance to shine. By meeting a professional in person first, you can learn what size and style of bike best suits your height, body type, and preferences. You can also physically ride around a bunch of different bikes and see what features make a difference to you.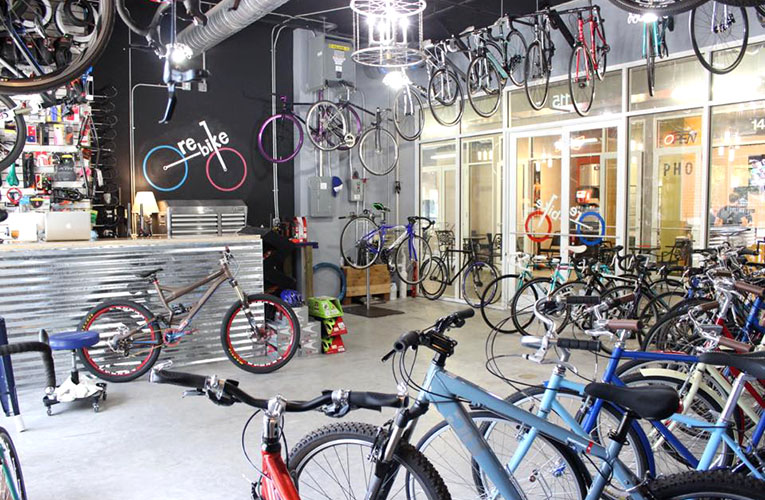 When you visit a shop, don't feel obligated to buy anything, but if you find something in your price range that you like, pull the trigger! Here are my tips for buying a bike from a cycle shop:
Feel free to look at brand new bikes, but try to seem like you are really looking for used ones at first — just to find out if they have any. Most shops have a very limited selection of used bikes in the back, but they'll always try to sell you something new first. I love used bikes from shops because they're typically very well-maintained.
See if you can negotiate free tune-ups and service for a year or two as part of your purchase. One great thing about buying from a shop is that the good ones will usually take care of you into the future.
Realize that some shops (especially in nicer parts of town) are set up to sell specifically to rich people with money to waste. If you're a beginner rider, and every bike they show you is over a thousand bucks…just leave.
If you decide to look for a used bike outside of traditional stores, try Craigslist and Facebook Marketplace. You can browse bikes on eBay too, but I prefer to meet up with local sellers and try stuff out in person. Before going to look at anything, call the seller on the phone and ask some questions to avoid wasting your time. Make sure the bike is the right size, and ask if there are any mechanical issues you need to know about.
When you get to see the bike in person, ride it around. Shift through every gear several times. It should shift smoothly without excessive clicking. Test the brakes out. Finally, stop the bike, lift each tire in the air, and spin it. The tires should spin without wobbling, without noise, and without touching the brake pads. If everything checks out, make the purchase! And don't forget — most prices on these resale marketplaces are negotiable.
If anything minor needs adjustment on your "new" used bike, or if you just want a professional tune up, bring it by your local shop. Don't worry; they aren't gonna be offended that you found a bike elsewhere. They'll be happy to make some money on service!
Best Bike Accessories (and Which Ones You Don't Need)
Note: This article includes some affiliate links. If you click one and make a purchase, we'll get a small commission. 100% of our affiliate profits go to charity, and we never let these affiliate relationships affect our recommendations (learn more).
While I highly recommend looking to your local cycle shops for bikes and service, most of them just can't compete with online retailers when it comes to accessories. Save yourself some money and get this stuff on Amazon or eBay.
For bike lights, definitely go with a Cygolite bundle, which includes a front and rear light with steady and flashing modes. They're really solidly built, water resistant, and you don't have to constantly buy batteries since they're rechargeable by USB. If you ride in totally unlit areas a lot, you might wanna opt for the super bright 800 lumen version.
You're gonna need to inflate your tires regularly. Make sure you get a tire pump that works on both presta and schrader valves, so you can share with friends. We like the floor pump models because they're easier to use. Other than that, it doesn't need to be special.
Don't be sold into buying a fancy, expensive helmet. Just get something cheap that suits your personal style. You can browse them on Amazon or eBay for maximum variety, or you can just grab one at Walmart if you want to try it on first. Don't overthink this.
If you ever plan on walking away from your bike in a public place, you absolutely need a lock. There are two main types, and they protect against different things. A cable lock (at least 5 feet or 1.5 meters) wraps around both wheels and the bike frame. This protects you against casual theft, including wheel theft (yes, that's a thing), but leaves you exposed to serious thieves with bolt cutters. A U-lock is almost impossible to cut off, but it can't secure both of your wheels at the same time (at least not without removing one first, which is a pain). If you're really paranoid, use both in combination.
If your bike didn't come with one, make sure you pick up a water bottle holder. The basic aluminum ones will do just fine. If you're willing to wait a month or so for delivery, I've seen them for under $2 including shipping from China. If you need it sooner, pay a few bucks extra somewhere else.
When it comes to fitness trackers and smart watches, you might be tempted to drop hundreds of dollars on something like an Apple Watch or Fitbit, but honestly, we kinda think they're overrated. Your smartphone already has a GPS built in, and there are tons of free apps that will log your pace, distance, route, and approximate calories burned on rides. If you're dead set on buying one, browse smart watches on eBay for the best possible price. Consider buying a two-year-old model (new in box) for a steal.
If you use your phone for navigation or tracking, it can be nice to keep it in view on your handlebars with a phone holder, but be careful. My phone popped out of one going over a speed bump once, and I ran it over. I honestly haven't used them since. But you can browse for one on Amazon or eBay if you want.
Finally, give some thought to maintenance items. You might want to grab some chain lube, an emergency tire patch kit, and a bicycle multi-tool. You can keep all of that stuff with you on rides in one of those spiffy under-seat wedges.
Now that you're all geared up, it's time to put on a little sunscreen and hit the trails. And if you want your bike to pay for itself by replacing your car and helping you burn less gas, I highly recommend riding it to work or using it to run errands around town, too!
— Steven