We're not full-time vanlifers, and our Nissan NV200 was mostly designed around getting a good night's sleep. The travel philosophy behind our own camper was to simply use public spaces and resources for everything not included in our van build. But Eric and Ashley of Create Your Own Roadshow wanted to build out a camper van that could not only replace their permanent residence — but could also go at least a week boondocking in full-on wilderness before resupplying.
The result? Basically a tiny home on wheels that would make any #vanlife Instagram influencer blush. We asked Eric to walk us through their choice of van — a Chevy Express — and their complete DIY camper van conversion process.
Eric was also kind enough to share some highlights from the road, like some favorite places he and Ashley have taken their Chevy van and how they make van life work for them financially. So, let's dive into their interview!
Van Life Inspiration | Cargo Van Conversion | Nomadic Lifestyle Tips | Finances & The Future
Note: We're gonna include some affiliate links to products and services that Eric and Ashley recommend throughout the article. If you click on one and make a purchase, we'll get a small commission. 100% of our affiliate profits go to charity.
Van Life Inspiration
Q: You two are serious about van life. You sold your home and most of your possessions to pursue full-time life on the road. What sparked that decision?
A: Our decision to pursue full-time van life slowly formed over a number of years, but the initial spark was probably the YouTube channel "Sailing SV Delos," which we started watching in 2015 or '16. Delos is a sailboat owned by Brian Troutman, who was a former software engineer from Seattle. He decided to make a major life change and buy a sailboat fit to cross oceans. He did it with his brother Brady and other crew members over a number of years.
That YouTube channel captured our imagination because, being from Michigan, the thought of traveling via sailboat to exotic tropical lands seemed a whole lot cooler than battling rush hour traffic in the horrible suburban winters of Detroit. It also inspired us because of their ability to fund their adventures through YouTube and Patreon revenue. How much better can it get?
We actually bought a small sailboat briefly with the intention of learning how to sail and then moving on to a larger boat in the Caribbean. We quickly learned how much financial commitment a boat is — way beyond the purchase price. So, we decided to pursue land-based travel instead…for now. 😉
The other factors that led us to van life were a desire to live outside of Michigan, a love of nature, and an embrace of minimalism. We knew that Michigan wasn't where we wanted to live forever, and we had been good enough with our money to have the financial cushion to consider some other options. Being closer to nature was a huge goal, and we had been adopting minimalist ideas into our lives for a while. So, tiny living just seemed right for us.
The straw that broke the camel's back was an overlanding trip to Costa Rica. We rented a 4×4 Toyota Hilux with a rooftop tent from a company called Nomad America. We spent three weeks exploring without having to stick to a lodging accommodation schedule. We could spend as much or as little time in each place as we wanted because we were carrying around everything we needed. That was a game changer!
It was an epic adventure, and we began the search for a van as soon as we landed stateside. A little over a year later, we sold our house and hit the road.
Q: You did your camper van conversion yourself, and your van of choice is a 2012 Chevrolet Express. What were the major factors that led you to pick this specific van?
A: I had a rough all-in "budget" of $20,000. I use quotes around "budget" because this is just a number I chose arbitrarily and didn't really stick to it during the build, but I knew I should be looking for vehicles in the $10,000 – $15,000 range in terms of initial purchase price. We shopped all the local used dealers and checked out high-top Transits, Sprinters, and Promasters, and we found the used market for those specific vans in our budget wasn't great.
We drove a couple of Ford Econolines that were retired fleet vehicles and disliked them because they didn't have any options such as power locks or cruise control. We then found a Chevrolet Express to test drive. It felt so much more refined than the Econoline, even though it was also a fleet vehicle, so we decided to narrow our search. I did some research into the engine options and found the 6.0 L Vortec highly regarded online.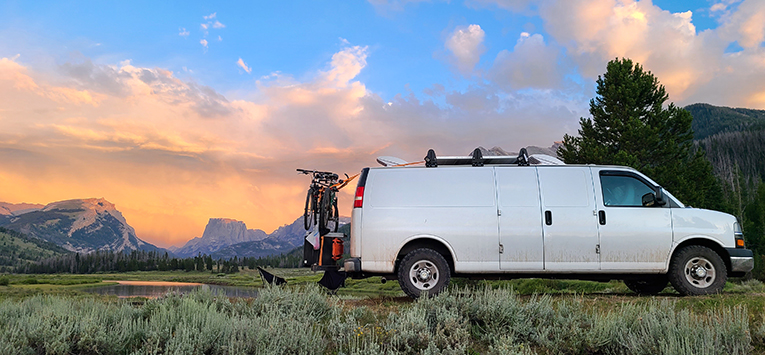 The specific Chevy van we purchased was found on Craigslist. It was not part of a fleet, it had the six liter engine, it was extended-length, and it had all the options including a G80 rear-locking differential. At a purchase price of $12,000 with 110,000 miles on it, we decided to pull the trigger. Almost 30,000 (hard) miles later, and Casper hasn't missed a beat.
Chevy Express Cargo Van Conversion Process
Q: How many working hours do you think it took to convert an empty van into a tricked out Chevrolet Express camper van that's fit to live in long-term? And where did you learn how to do it?
A: Our van build took eight months to complete (working nights and weekends), and I estimate to have at least 1,500 hours into the build. I studied product design and woodworking in college, so I already had the skills and tools necessary to build the van. Ashley helped with every step of the build and tackled all the painting and sewing projects herself.
Q: Let's hear the van conversion process from top to bottom. What all did you do to make this Chevy Express camper van dream a reality?
A: We started the build by defining our goals; we wanted to be able to spend at least one week off-grid without having to resupply, we wanted to have enough storage to fit all our camping gear, we wanted to be able to camp in freezing temperatures comfortably, and we wanted a clean, modern, and minimalist aesthetic.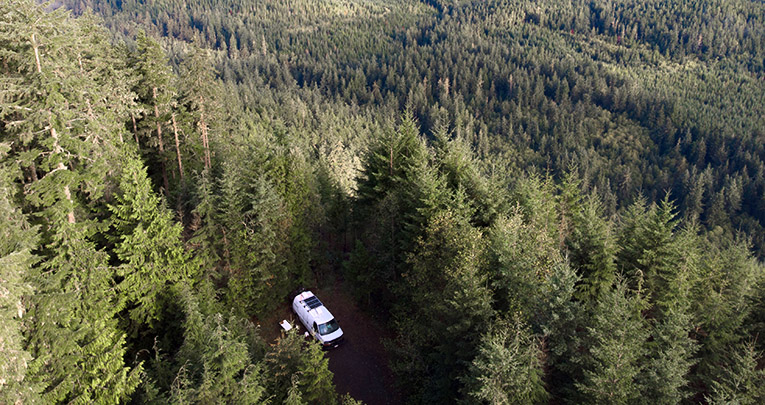 We spent a long time designing our layout, even before we got the van. We drew probably a dozen floor plans and even taped them out on the floor of our spare bedroom to get a feeling of space, and we're so happy we spent so much time planning our layout. Getting the proportions correct in a low-roof van can be a challenge, and we feel like we nailed it.
Once we got the van, it was just a matter of figuring out how to piece it all together. We insulated using 1.5" XPS and spray foam and designed a heavy thermal curtain to separate the cab from the living space. The curtain utilizes heavy duty snaps to create an airtight seal against the walls of the van. We learned that spray foam does not cure unless exposed to moisture, so filling large enclosed voids does not work. Ashley made insulated fan covers from ½" XPS that magnetically snap to the fan bezel for extra insulation in the cold. We also have a diesel heater that has been awesome for cold-weather camping.

Our electrical system consists of 200 amp-hours of lithium ion batteries from Renogy, 300 watts of solar, a 1000 W inverter, and a Renogy DC/DC charger so we can charge from the alternator. We're so pleased with the performance of our batteries and solar system, and we would recommend lithium batteries to everyone. Even in the Pacific Northwest where we experienced five days of straight rain, we have never run out of power.
We have three different lighting zones in the van, which are all dimmable. The main overhead lights are on a three-way switch so we can control them from the front or back. The under-cabinet LED strips make the space so much brighter and are a joy when cooking or doing dishes. Finally, there is a third LED strip near the rear doors that acts as our reading light when we're laying in bed. Oh, and Ashley added a fairy light string, which is really nice when we're watching movies.
Our water system is all inboard because we didn't want to deal with frozen tanks or water lines. We have a 20-gallon fresh water tank that runs through a filtration system before our faucet. We have a small, 5-gallon grey tank that has turned out to work really well. We can carry it into public bathrooms or pit toilets to empty, and it gives us much more flexibility than a traditional grey tank would, though we have to empty it more often.
All our cabinetry is made using ¾" plywood, which in hindsight is probably overkill, but it's solid as a rock. We mainly used pocket screws to attach everything together, and iron-on edge banding to finish the plywood. There are four key "bulkhead" type members of our cabinetry that are bolted securely to the van, which everything else builds off of. I designed the mandala pattern to match the thermal curtain and used a laser cutter to remove the top layer of stain on our cabinet doors. The ceiling is tongue and groove pine, which Ashley oxidized using vinegar and steel wool.
The couch converts into our bed and has a ton of deep storage underneath. The pull-out part of the bed utilizes a french cleat to lock into place when in bed mode. We wrote a post about it on our blog because it's been such a great design. Our mattress consists of 3 inches of high-density foam and 2 inches of memory foam, and it's honestly more comfortable than our bed was in our old house. Ashley upholstered the cushions with removable covers so we can toss them in the wash when needed.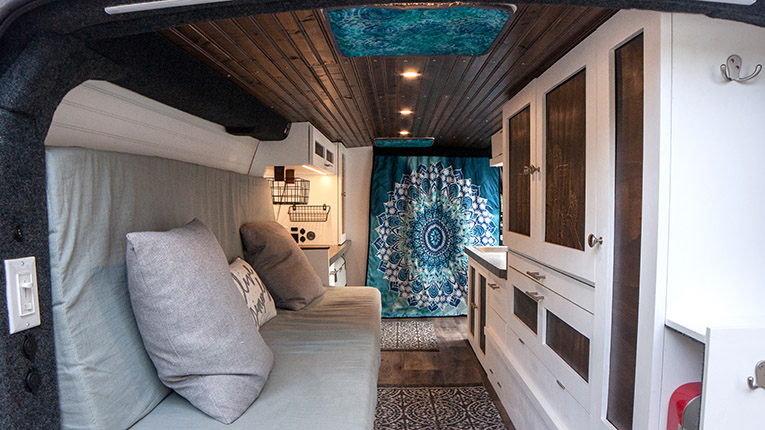 Across from the couch is our wardrobe and pull-out table where we eat, work, and play games. The table is one of our favorite features. Under the table is more storage that's easier to access than the under-bed area.
We chose to use Formica for the countertops, and it has proven to be a great choice — extremely durable and stain resistant. We love how much counter space we have, considering it's such a small space. The sink is 12" x 14" x 7" stainless steel, and it fits proportionally with the rest of the aesthetic. Our fridge is a Dometic CFX-65 chest style that slides out on heavy duty locking drawer slides and has enough space for more than a week's food.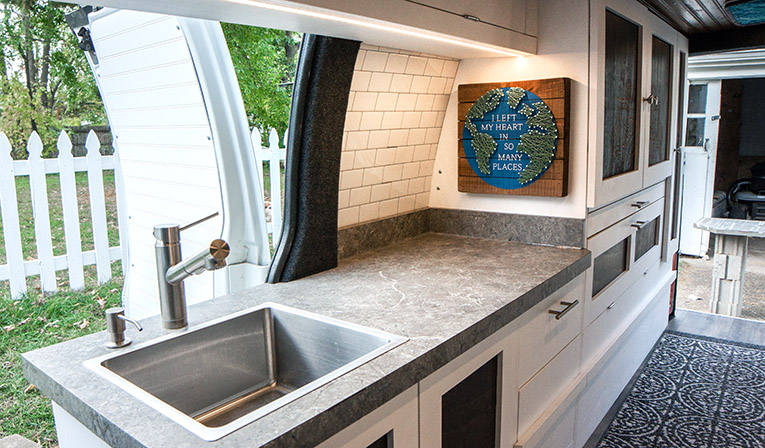 We cook on a propane camp stove, an electric hotplate, or with our Instant Pot. We like the camp stove because we can cook outside just as easily, which we prefer to do. But being able to whip up a grilled cheese with the electric hot plate is super handy, too.
We have dual Maxxair ceiling fans in the front and rear. It's great to have more ventilation options, especially when cold-weather camping. With dual fans, you can choose whether or not you want to push or pull air, and in what direction.
We installed a swivel bracket on the passenger seat, which really opens up the space and makes it possible to host more people comfortably. We designed a "throne" for our dog, Joni, which slides between the front seats while we're driving. It stores all of her dog accessories and food, and it acts as our garbage can. It's on wheels, so we roll it into the main space to sit on when cooking or doing dishes.
I recently installed exterior lighting on our roof rack and highly recommend anyone building a van to incorporate exterior lights. We can light up the night when we're boondocking, and it gives us great peace of mind.
We have a swinging, hitch-mounted box which is also a bike rack for external storage. This is where we store our propane, leveling blocks, shovel, and other tools and maintenance items. Overall, we are extremely pleased with our build and wouldn't change much!
Including the purchase price of the van and all of our mods and upgrades (but not counting labor), the all-in cost of our rig was probably around $25,000 — but keep in mind that it completely replaces the cost of owning a home or renting an apartment most of the time!
Q: Is there anything still missing from your van build, or anything you wish you'd done differently or known sooner? Any big mistakes along the way?
A: We would use a professional spray foam insulation in the next build. Spray foam acts as a moisture barrier, and condensation can be a real issue. We're happy with the performance of our insulation; I just think spray foam is better.
We would also look for a 4WD chassis next time. We love to get out there, and having 4WD would be awesome.
A bunch of small mistakes were made during the build, which is to be expected when you're learning new skills. Mostly we just bought a bunch of stuff we ended up not using, especially electrical and plumbing components. We might add a backup camera in the future and maybe a WeBoost antenna.
Nomadic Lifestyle Tips
Q: Where do you park and sleep on a typical night? Any tips for cheap campsites?
A: We designed our van with the ability to be off-grid for one week, so boondocking is our preferred method of camping. We have a post on our blog that explains how we find free campsites, and another that talks about the safety and security considerations when boondocking.
Our favorite method is to use iOverlander to get a sense of the area, then use Google Maps satellite view to pick out specific spots. In fact, we have a rule to always check the iOverlander entry on satellite if possible because it gives you such a better understanding of what you're heading toward.
Our favorite areas to camp in are National Forests. They typically have huge networks of dirt roads to explore and are totally free to camp in if you follow a few rules. BLM land has proven to be great camping too, but we find that it gets abused more than National Forests. We always follow "leave no trace" principles when camping and advocate for others to do the same.
If we're near a city, we always look for Cracker Barrels or Cabelas first before considering Walmart, but you can usually find free residential street parking that's okay for a night or two, as long as you're very respectful of the locals and aware of the parking laws. There is a great app called OnXHunt that will show you who owns the land you're on. It's a great way to confirm you're not accidentally camping on private land.
Q: What are your best life hacks for van living? Where do you shower, brush your teeth, and exercise? And what do you do to stay sane and keep having fun long-term?
A: We shower at gyms or campgrounds most of the time, but occasionally take "keg showers" with a garden sprayer in the middle of the woods, which is awesome. Body wipes are another great way to keep clean in between showers on the road — they're glorious after a long hike.
We found that elastic workout bands are great for van life because they are lightweight and don't take up too much space. Ashley does yoga, but other than that, our main source of exercise is hiking or biking.
We keep a few small games in our camper van including Settlers of Catan, and we have a N64 emulator on our laptop to play Mario Kart, complete with USB controllers. Our main source of entertainment is just being out there though. Because our environment is always changing, and we're constantly exploring new places, we just have to keep that sense of adventure alive — it never gets boring.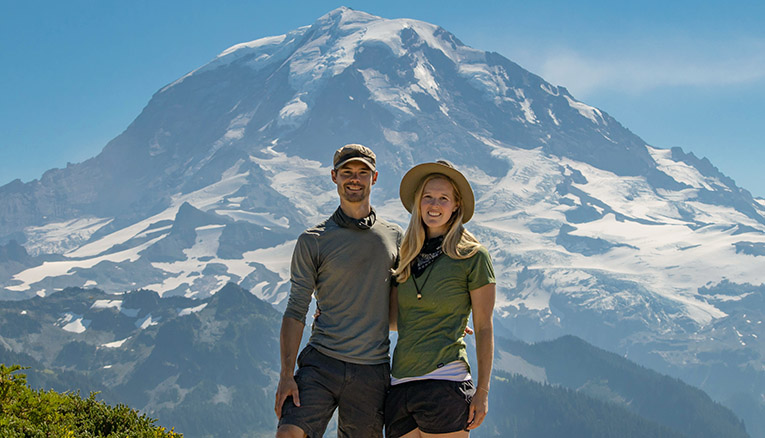 The two pieces of advice we have for new travelers are: 1) Slow down, and 2) Take a break if you need to. We've made the mistake of changing locations too often and later regretting not spending more time in a particular area. Slow down and live like a local for a little while.
If life on the road has beaten you down more than expected (which it can) give yourself a break and get a hotel room for a couple days, just relax, watch TV and take as many showers as your heart desires. You're not admitting defeat if you come off the road once in a while. The goal is to enjoy the journey, not to prove a point to anyone.
Q: What's your main source of income, or how do you otherwise fund life on the road?
A: Ashley is a travel nurse and has excellent opportunities to work all over the United States at will. A standard travel nurse contract is 13 weeks, so we typically come off the road and rent an apartment during that time. We work less than 6 months a year — usually during the winter — and travel the rest of the time.
Eric does freelance design work and also daytrades in the stock market. We've set up some passive income streams through our blog which help fund our travels as well. Our blog is designed to inspire and empower others to pursue alternative lifestyles. We're focused on van life right now, but we intend to broaden our reach to encompass all the different ways people are challenging the traditional American dream and creating their own roadshow.
Finances and The Future
Q: How has long-term travel affected your financial goals and plans? Are you pursuing financial independence and early retirement, or are you on a more traditional financial life path?
A: Our financial philosophy is really simple. We save and invest almost all of our income, and our spending is very intentional. We only purchase things and experiences that enrich our lives, but we're not necessarily frugal when it comes to that.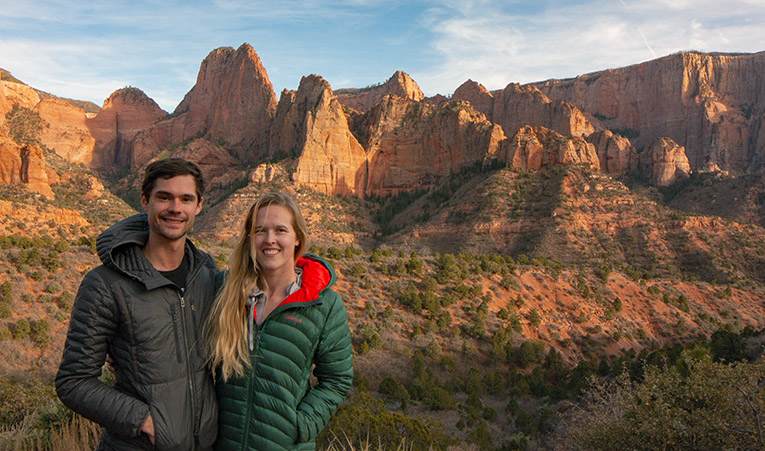 We believe that you've only got one life to live, and we want to take advantage of our youth and good health while we can. That's why we decided to take the leap now instead of waiting for retirement. We invest most of our income so that hopefully one day we can live off the appreciation and dividends, so we're similar to FIRE in that respect, but we don't deprive ourselves of a life trying to achieve this goal.
Q: How are your plans for the future shaped by camper van life? Do you think you'll ever "settle down" again?
A: One of our goals from the beginning was to use the van as a way to explore different areas of the US for a place to settle down. We keep a list of all the places we would consider buying property in when the time is right. For the short term, we don't have any plans to stop traveling. We would love to drive the Pan-American highway from the Arctic Circle to Argentina one day!
Q: What are the best places you've taken your Chevy camper van so far? Got any stories to share? Where are you now, and where do you plan to head next?
A: The van has taken us to so many memorable places. Our favorites have been the Upper Peninsula of Michigan, the Olympic peninsula in Washington, and the Sawtooth Mountains of Idaho. We've met some awesome people on the road that we keep in touch with, too.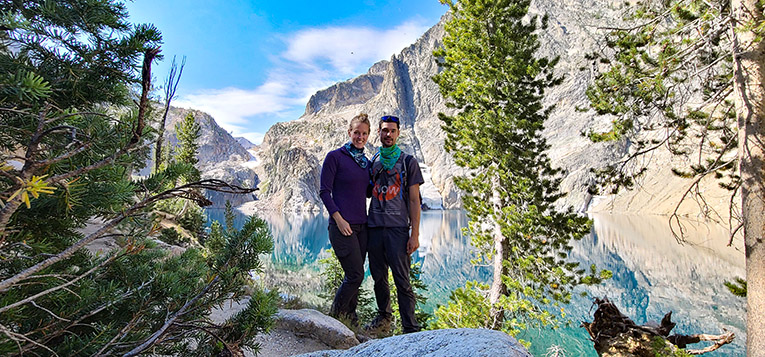 A few particularly memorable nights were had in Idaho when we happened to be in a dark sky park during the Perseid meteor showers on a new moon. We spent the evenings laying on the beach of an alpine lake with the Milky Way overhead, watching shooting stars. It was like nothing I had seen before.
We are in southern California right now (March 2021), while Ashley is on a nursing contract. We plan on visiting friends and family in Michigan this year and then traveling the east coast of the United States from Maine to Florida. Alaska is on our radar as well, but that will be determined by COVID-19 restrictions.
— Eric
Where to find Eric and Ashley:
Website: CreateYourOwnRoadshow.com
Facebook: @CreateYourOwnRoadshow
Twitter: @yourownroadshow
Instagram: @create.your.own.roadshow
Pinterest: CreateYourOwnRoadshow