We're about a month into our three-month trip across Australia, and we've been buying iced lattes from McDonald's (or "Macca's," as Aussies call it) almost every day. That's not exactly one of our best hacks for making long-term travel cheap, but it's the truth. We're just very particular about our coffee.
Each time we've ordered at the store kiosk, we've been bombarded with ads for the MyMacca's rewards app, promising heaps of discounts and rewards for frequent customers like us — and I really hate missing out on free money when a good rewards program is available.
But when I tried to get the app from the Google Play store, I received an error message: This item isn't available in your country. The issue was that my Google account is registered in the United States (my home country), and MyMacca's is an Australian app that's not available to US Google Play users.
I made it my mission to find a workaround, and after trying a few different methods suggested by our Instagram followers, I finally figured out how to download apps from other countries on my Android phone. After just two days, we're already 40% of the way to our first free latte!
Here are three different ways to fix the "app not available in your country" problem in the Google Play store, starting with the one that worked best for us.
1. Make a Second Google Account to Change App Store Region
If you make a second Google (aka Gmail) account and set it up for the country you're visiting (or just want to get apps from), you'll be able to download apps from that region's Play store. This is the best method to download apps from other countries if you're just traveling abroad for a bit and intend to return to your home country within a year, or if you want to access an international app from home.
With two Google accounts, you can simply switch between them as needed. Your original account remains intact, so none of your existing apps are affected. This secondary account will simply give you access to the Google Play store in the foreign country. While this hack works surprisingly well, the initial setup process is a bit tricky.
First of all, you need to get an IP address in the foreign country. If you're traveling to that country like us, you don't need to do anything special. Just be there. But if you're trying to install an international Android app from the comfort of your home country, then you may need to use a VPN service to get an IP address in the foreign country before beginning this process.
Now you're ready to make a new Google account, which is most easily done via Gmail. Open the Gmail app (or visit Gmail.com in a web browser) and follow the steps to create a new account.
As part of the setup, you may be required to verify a phone number, and it's probably best if you use a local mobile number in the foreign country. If you have a phone number in the foreign country, just use it, and you'll be good to go to the next step.
Sometimes Google doesn't require a phone number at all for account registration (it's seemingly random). If it's not a required field for you to fill out, then you can just skip this step altogether! The first time I tried this, it was required.
Since we didn't buy an Australian cell phone plan on this trip, we only have access to a US phone number. No problem though — we messaged an Aussie friend to ask if we could use her local mobile number for setup, and she agreed. Google texted her a one-time code, which she forwarded to us, and then we entered it on the screen to finish creating the account.
If this step is required for you, and you don't know anyone who might be able to help, try being nice to a stranger and asking to use their number for a quick text (you'll only need access to the local number this one time). Throughout our travels, we've found that most people are happy to help others out. (Note: You might wanna go into your Google settings later and make sure the mobile number you verified isn't being used for two-factor authentication or any other account access.)
Now that the account is created, open the Google Play store app on your phone, tap the user icon at the top-right, and switch to your new account.
At this point, you're out of your home country's app store, but you're not actually in the foreign country's Play Store — yet. Sometimes, this is enough though, so stop for a moment and just try to install the app you want. If you still get an error message, then you'll need to go one step further…
You won't actually switch into the foreign country's Play Store until you add a local payment method — even if you only intend to install free apps (yeah, seriously 🙄). Once you're logged into your new account in the Google Play Store, go to Settings, then tap to expand the General section of the settings to access "Account and device preferences." This is where you can add a payment method and change your country in Google Play.
The options to add a payment method include PayPal, or a credit or debit card, but remember: You need a local payment method. Do not use your bank card or PayPal account from home!
Since we don't have Australian bank accounts, I devised a little hack. I simply bought a Visa gift card at an Australian grocery store to use as my local payment method. When the Play Store asked for a local postal code, I used the code of the store where I bought the card, and it worked perfectly.
Those three details — an IP address in the foreign country, a verified local mobile number (sometimes required), and a local payment method on file — allow you to change regions in the Google Play store so you can download apps from other countries on your Android phone. Making a new account to do that lets you keep all your other apps and accounts separate and unaffected by changing countries in Google Play.
2. Change Country in Google Play Store Settings
You don't actually need a second Google account to install country-restricted apps. The most straightforward way is to just change the country setting on your main Google account.
The problem is, you can only make that change once every 12 months, and you still have to meet the three requirements from the last method: an IP address in that country, a mobile number local to that country (if asked for verification), and a payment method from that country.
Since we'll be returning to the US after our three-month vacation in Australia, we didn't want to commit either of our main Google accounts to being set to Australia for nine more months once we returned home.
That said, if you're moving to a new country altogether, changing app store regions makes total sense, and is the easiest way to gain access to international apps. You'll likely be setting up a new life in this country with a local phone number and local banking anyway, so you won't hit any snags while changing countries in the Google Play store settings. Easy-peasy!
Keep in mind that if you were to return to your original home country after 12 months and wanted to switch your region back, you'd probably need all the same details. So for folks studying abroad for a couple years or something, just know that you'll probably need a mobile number and payment method based in your home country to go back to your original Google Play store.
3. Download APK Files for Apps from Other Countries
This next solution should only be used as a last resort. You can download international apps via "APK files," which allow you to manually install them to your Android phone without going through the Google Play store at all (making the process much easier). But there are quite a few drawbacks.
First of all, not every app has an APK version available for download, and not every APK file (Android Package Kit file) is safe or legit.
The best way to get an APK file for an app is to go to the source. For example, DJI has a page on their official website for drone users to download older versions of their apps as APK files in case, for example, some new update causes the app to not work with the hardware in their older drones (ask me how we know 😂).
However, most APK files are community-sourced (aka random nerds ripping code from the source and uploading it to the web) through sites like APKPure, APKMirror, and APKMonk. Because of that, these files could also easily contain added lines of code to introduce malware to your phone.
When you download APK files, you're purposefully circumnavigating the Google Play store, and that means you won't receive automatic updates for that app — another security risk. You can think of these files as snapshots in time, recorded whenever the code was originally taken, so they'll just statically exist on your device until you manually install a newer APK file for the app, skipping new features and security updates along the way. And sometimes, they randomly stop working altogether.
I'm not saying every APK download will steal all your personal data or break your phone, but I do want to make it clear that you shouldn't just go around downloading APK files to your Android phone unless you really need to.
Anyway, the easiest way to find APKs is to just Google the name of the app plus "APK." If there's not an APK file from the maker of the app (for example, McDonald's doesn't have an official APK for their MyMacca's app), try one of the crowdsourced sites like APKPure or APKMirror.
Once you download the APK to your phone, just find it in your "Files" app, then tap it to start installing. If it doesn't automatically begin executing the install, you may need to explicitly allow special access to install unknown apps in your device settings first. Again, proceed with caution.
Best Fix for "App Not Available in Your Country" Problem
I'm actually really glad we were able to get the Australian McDonald's rewards app, MyMacca's, on our American Android phones. We'll earn a free drink every four purchases or so over the next two months!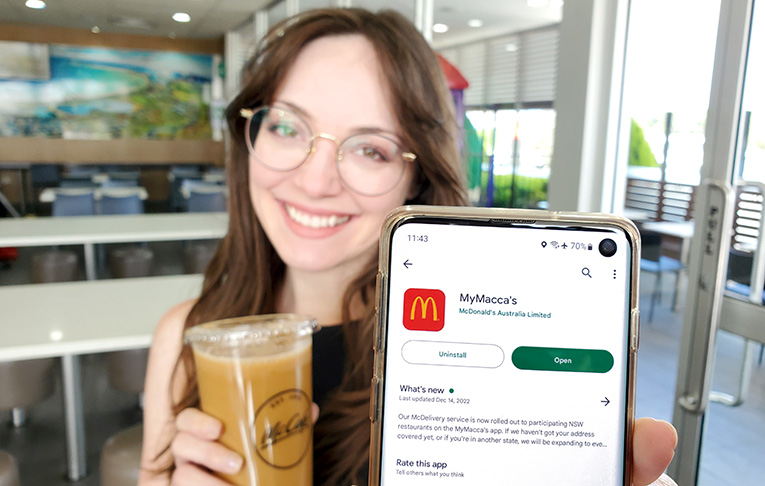 Now that I know how to download apps from other countries, and just how easy it really is, I'm kinda sad we missed out on so many rewards apps on our previous travels (like those couple months we spent in Canada last summer eating way too many Beyond Burgers at A&W).
Besides social media, banking, and my on-the-go library app, most of the apps on my phone are food-related, so here's to exploring more places to eat (and earning more free food)!
— Lauren
---
Update, April 2023: Apparently this hack was worth the effort, because we racked up a ton of free and discounted food through Android apps while we were in Australia! Here's everything we scored during our 3-month trip:
8 free lattes, 2 half-priced lattes, and 2 half-priced fries from McDonald's
1 free burrito from Guzman y Gomez
6 free Impossible burgers and 5 free fries (or "chips," as they say in Australia) from Grill'd
1 free latte from OTR
1 free order of fries from Nando's
2 free pizzas and 1 free garlic bread from Crust
$15 AUD off at NoodleBox
Really glad we figured out how to download apps from other countries!