We spent most of 2019 living out of a tiny camper van in order to visit and photograph every National Park in the United States before turning 30. As we traveled, we evaluated each park against all the previous ones, forming this master list one park at a time and carefully curating our picks for the very best National Parks. We've also kept it updated with the addition of new National Parks.
Our three main ranking factors included:
Wow Factor — How much did the park's beauty take our breath away?
Fun Factor — How much fun stuff was there available to do?
Crowd Factor — How easy was it to find peace and solitude in this place?
We did not include the difficulty or expense of reaching each park as a factor. Remote parks in Alaska that aren't even connected to the road system were given just as much of a chance as a place like Gateway Arch National Park, which is right in the middle of a city.
This ranked list of America's best and worst National Parks was created from months of nonstop travel and dozens of hours of debate, but it's certainly colored by our own subjective experiences in the parks. To get context for some of our choices, you can also read our six-part illustrated series documenting the parks in the order we visited them. There are also links to each park within that series below.
Share this article:
The 7 Best National Parks — Tied for First Place
Although we decided on a ranking for these seven parks out of necessity, they are so amazing and so different from one another that we consider them to all be tied for first place. If one of these parks is anywhere near where you live, stop reading this article right now, and go visit it. You won't regret it.
1. Death Valley (California) — Holding the record for hottest place on Earth and lowest land elevation in North America, Death Valley is an amazing place. It's got a vast sand dune field (Eureka Valley), magically colored rock formations (Artist's Palette), and barren salt flats (Badwater Basin), making it feel like several National Parks smashed together into one.
2. Yosemite (California) — Yosemite probably scores the highest overall for "Wow Factor." Everything is amazing everywhere you look, from fantastic waterfalls to unfathomable granite cliffs. Its beauty is no secret though, which can make some areas a bit crowded at times.
3. Hawai'i Volcanoes (Hawaii) — This park comprises an active volcano on the shoreline of the Pacific Ocean. Need I say more? We actually lived on this island for 6 months, so we've gotten to know the park pretty well, and it's definitely worth visiting more than once.
4. Yellowstone (Wyoming) — Yellowstone is the first place to be called a "National Park" in the entire world. Aside from just being a pretty landscape, it has a ton of amazing and unique geothermal features, like geysers and multicolored hot springs.
5. American Samoa (American Samoa) — This park is located on a tiny Pacific island chain in Earth's southern hemisphere, closer to Australia than to the mainland United States. Although it is technically a US territory, American Samoa feels like a foreign country, with a fascinating native culture all its own. Of all the National Parks, this one is perhaps the most unique.
6. Carlsbad Caverns (New Mexico) — There are several caves in the National Park system, but Carlsbad Caverns tops them all with its absolutely massive underground "rooms" and grandiose formations. For us, the thing that sets Carlsbad Caverns apart from other NPS caves is that you're allowed to hike into a large part of it without a tour guide, allowing you to feel like you're truly exploring.
7. Canyonlands (Utah) — Imagine if you had the Grand Canyon all to yourself. That's Canyonlands, one of the best-kept secrets of the National Park system.
The Next Best National Parks in the US
8. Redwood (California) — Aside from its famous trees, this park has miles of unspoiled coastline, and you can spend a whole day exploring without seeing more than a few tourists.
9. Haleakalā (Hawaii) — The highest point on the island of Maui, this park is located on a dormant volcano famous for its incredible sunrise views. It's one of the only places in Hawaii you'll need to bring a winter coat. There's also a second district to the park on the shoreline that contains an amazing waterfall.
10. Virgin Islands (US Virgin Islands) — This place is the definition of a tropical paradise, with warm weather, bright blue water, and amazing beaches. For us, the only drawback was economic. Prices on everything from lodging to food were astronomical, and it seemed like everywhere we turned, someone was trying to make a fast buck off of us.
11. Grand Canyon (Arizona) — This National Park really needs no introduction. I mean, it's one of the seven wonders of the natural world after all. You definitely need to see it at least once in your lifetime. But because of this, crowds are in full force, even in the off season.
12. Glacier (Montana) — There's a lot of fun to be had in this park. We biked Going To The Sun Road, and taking in the sights as we exercised made the experience even more worthwhile. The most iconic spot in the park is the tranquil shoreline of Lake McDonald, where you can see the pebbly bottom through super clear water.
13. Channel Islands (California) — We actually only got to see one of the Channel Islands (Anacapa) on our trip, so our opinion of this park is definitely incomplete. That said, it's a pretty breathtaking place, and dolphins leapt out of the water alongside our boat all the way there and back.
14. Olympic (Washington) — This is another park that's really several parks in one. It includes a rainforest, tall mountain peaks, hot springs, and endless rugged beaches. There's so much to do.
15. Gates of the Arctic (Alaska) — Gates of the Arctic is the least visited of all the National Parks. It contains no roads, no signs, and no trails. To get into this vast wilderness on the North Slope of Alaska, you either have to take a serious, multi-day trek on foot from a distant haul road, or you have to charter a series of expensive bush planes all by yourself, which costs thousands of dollars. However you get there, the sights are worth it, and you'll likely never experience such a true sense of solitude anywhere else. On a side note, this park definitely wins the coolest name award.
16. Badlands (South Dakota) — The multicolored layers of Badlands' landscape tells a multi-million year story. It's basically a real-life museum of natural history.
17. Grand Teton (Wyoming) — Near the famous town of Jackson, the Grand Tetons are awe-inspiring, snow-capped peaks that follow you everywhere you go in this park. Although it didn't feel stuffy overall, a huge crowd formed on the side of the road when we spotted an entire family of grizzly bears making their way through a valley.
18. Capitol Reef (Utah) — "Reef" is the word early settlers used to describe impassable barriers in the land, like the shear cliffs found in this park. Because of its remote location and low visitor count, the night skies at Capitol Reef are full of stars.
19. Zion (Utah) — This park has become extremely famous for its narrow passageways through steep rock faces and dramatic canyons. It's a great place to hike, but unfortunately, because of its popularity and relatively small size, it's a tough place to find much alone time, too.
20. Katmai (Alaska) — The main attraction here is the swarm of grizzly bears that fill the area in search of salmon after winter hibernation. You can watch the bears wade through a stream and hunt. It's pretty exciting (and a little scary).
21. Rocky Mountain (Colorado) — It's a big, popular, high-elevation wonderland ripe for exploration. There's lots to see and do in these Colorado mountains.
22. Glacier Bay (Alaska) — The most common way to explore this remote park is via boat tour. While you're with a lot of other people on the tour, it's still easy to stop and appreciate the fact that you're in the middle of untouched wilderness. You may even witness a piece of the gigantic Margerie Glacier crack and fall into the ocean.
23. Sequoia (California) — If you've ever wanted to feel small, this is the best place on Earth to do it. Just standing next to a Sequoia tree will blow your mind.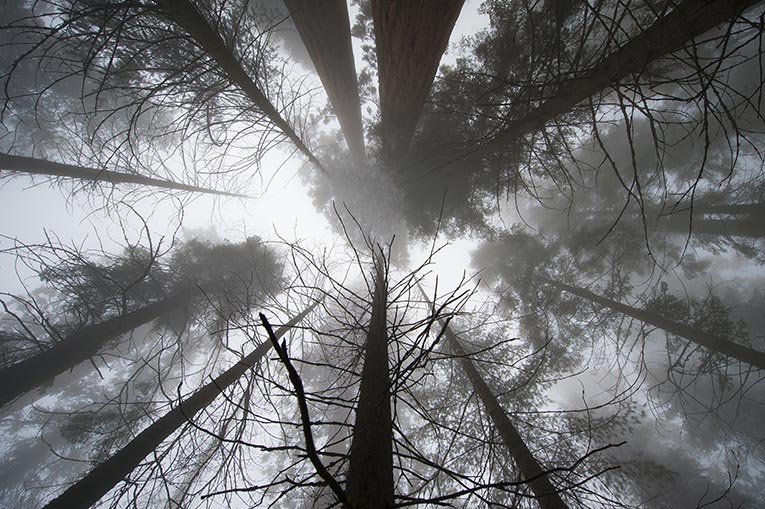 24. Dry Tortugas (Florida) — Garden Key is a tiny island far off the coast of Key West and home to a 19th century fort that can be completely traversed on foot in around 10 minutes. The best way to enjoy this remote place is to experience a sunset and spend the night, which you'll have to do in a tent.
25. Kenai Fjords (Alaska) — You can walk right up to a massive glacier in this park and see evidence of its recession over the last several decades with your own eyes.
26. Mammoth Cave (Kentucky) — This National Park is home to the longest cave system on the entire planet. You can explore parts of it, but you'll have to do so as a part of a scheduled tour group (and tickets can sell out fast).
27. Arches (Utah) — Full of strange, arch-shaped rock formations, Arches National Park has a lot of good hikes and a lot of sights to see from the one main road that runs through it. The entire surrounding area is beautiful, like the rest of the state. We think it's an awesome place, but we actually liked a couple of the lesser-known Utah parks better than this one.
28. North Cascades (Washington) — Take in sweeping mountain vistas, peep a glacier, and enjoy massive lakes at this park. My favorite moment, though, was getting to see a goldenrod crab spider up close in the wild.
29. Great Sand Dunes (Colorado) — Although it's a bit of a one-trick pony, this is easily one of the most fun National Parks. You basically just go play on gigantic sand dunes all day, surrounded by mountain views. You can even rent a sled and ride down them.
30. Big Bend (Texas) — I feel bad ranking this one since we didn't get to see certain parts of it due to the government shutdown. But what we did explore was pretty cool. The park borders the Rio Grande River and Mexico.
31. New River Gorge (West Virginia) — Nestled in the Appalachian Mountains, this park looks and feels a lot like the Great Smoky Mountains, but with way smaller crowds.
32. Great Smoky Mountains (Tennessee) — It's the most visited National Park in the United States because it's so accessible, and it's one of the few mountainous landscapes you'll find in the southeast. It's surrounded by tourist traps, but the park itself is kept free of rampant commercialism.
The Bottom Half — Not As Good, But Still Insanely Great
33. Lake Clark (Alaska) — Another remote park that cannot be accessed by road, Lake Clark contains bright blue glacial meltwater in the middle of tranquil wilderness.
34. Denali (Alaska) — Denali is the most well-known of Alaska's National Parks. While we really enjoyed it, we also found it to be lacking in a few ways by comparison to the others. Access to almost all of the park's roads is restricted, so you're forced to pay for a no-frills bus tour to really explore.
35. Great Basin (Nevada) — This park is absolutely in the middle of nowhere. You won't be making many stops along the way there. I can't say we were able to judge it fairly, because we arrived during a blizzard that made most of the park tough to explore (or even see). However, the park is home to a really cool underground cave system, which is definitely worth exploring. You'll have to book a tour.
36. Crater Lake (Oregon) — It's a giant lake in a crater, and there's an island in the center called "Wizard Island." I mean, that's pretty cool all by itself.
37. Theodore Roosevelt (North Dakota) — If you have an appreciation for American history, you'll probably get a lot more enjoyment out of this park. Aside from learning about our former president, we saw herds of wild horses and bison roaming the land freely.
38. Wind Cave (South Dakota) — The cave at this park isn't the most impressive we've seen, but it's also not the only thing there. There is a lot of wildlife in this park, and the one thing you're guaranteed to see everywhere you go is thriving communities of prairie dogs. They yip incessantly at you until you get too close, then they'll duck back into their burrows to more safely observe you by poking their heads out of the ground.
39. White Sands (New Mexico) — This park has a totally different look and feel to it than other dune fields because its sand is made of gypsum, which is almost white in color and contrasts really well with the warm hues of sunset.
40. Petrified Forest (Arizona) — You might think that a bunch of super old logs sounds pretty boring, but the landscape and geological formations here are really interesting and fun to explore on foot. This park lost some points with us though because it's not open at all after sundown. Cops will literally chase you out if you try to overstay. Don't ask how we know.
41. Kings Canyon (California) — This park borders Sequoia National Park and contains lots of massive trees, along with a huge canyon that we didn't get to see up-close on our visit because of a major road closure. You should probably ignore our opinion on this one. Just being honest.
42. Bryce Canyon (Utah) — The main feature of this park is its massive concentration of really weird looking rock spires called "hoodoos."
43. Everglades (Florida) — The Florida Everglades is mostly a swampy wetland preserve teeming with wildlife (including big alligators!), but it also boasts a huge coastline of marshes with even more animals (like manatees!).
44. Shenandoah (Virginia) — Skyline Drive will take you from one end of this park to another along a ridge that looks down on Shenandoah Valley and the Blue Ridge Mountains.
45. Indiana Dunes (Indiana) — This is a great place to spend a beach day on Lake Michigan, one of the Great Lakes, which are so large they seem like oceans. It's a bit strange because of its proximity to commercial and industrial activity. You'll see big power plant cooling towers closeby and the Chicago skyline in the distance.
46. Acadia (Maine) — Don't get me wrong; this is a beautiful coastal park, and you should totally go, but we felt like it was dramatically overhyped. Acadia is consistently ranked by others as one of the top 10 National Parks overall, but we found it to be a bit overcrowded and underwhelming compared to the truly awe-inspiring parks it's so often compared to out west.
47. Mount Rainier (Washington) — Mentally prepare yourself for the quintessential dreary, foggy, rainy Pacific Northwest day when you visit here, and allow yourself to be pleasantly surprised if the weather cooperates with you. It's a beautiful place if you get to see it.
48. Black Canyon of The Gunnison (Colorado) — This is another park that really only has one main attraction, but it's a pretty cool one. This canyon forged by the Gunnison River is steeper than any we've ever seen, and rather than being made of the red rock you associate with the Grand Canyon, it's dark and eerie granite. It's pretty freaky to walk along its edge.
49. Joshua Tree (California) — Another very famous park that we really enjoyed but also felt was completely overhyped. If you go, make sure you check out the big boulders. They're way cooler than the weird Dr. Seuss trees the park is named after.
50. Wrangell-St. Elias (Alaska) — The largest National Park of all, Wrangell-St. Elias contains mountains and glaciers of epic proportions, so you'll always have something amazing to look at on your hikes. Unfortunately, to enter the park, you have to take a very long and boring drive in, then pay for a shuttle ride, and then eventually take that same route back out again.
51. Saguaro (Arizona) — This park is super cool when you first arrive. You're greeted by thousands of tall, funky looking Saguaro cacti that are really fun to look at. But then eventually, you realize that that's pretty much the only thing to look at. I recommend a single day trip here. If you're into spooky experiences, take a long hike in the middle of the night. The cacti (and animal sounds) can be really eerie.
52. Biscayne (Florida) — Make sure you're in the mood to snorkel or SCUBA dive when you arrive. This park's magic is all underwater, so don't expect to see too much on land within the park boundaries.
53. Isle Royale (Michigan) — You'll have to take a long ferry ride to get to this remote island, and you'll want to pitch a tent once you get there. Our favorite parts of this park were its incredible, pollution-free views of the night sky, and the sound of its local wolf population howling in the quiet evenings. The hiking was mediocre, and there were a lot of bugs.
The Worst 10 National Parks in the US
At this point in the list, you might be thinking, "wait, so these places suck, right?" That's not really true at all though. Remember, every place on this list achieved National Park status. These are the best of the best parks in our country. It's not that we didn't enjoy these last 10; it's just that by this point in the list, the "Wow Factor" begins to take a dip, and somebody's gotta be last.
54. Pinnacles (California) — As locations in California go, Pinnacles is pretty much in the middle of nowhere, without cell service or a wifi hotspot. We really loved the hikes here, especially in the above-ground caves.
55. Congaree (South Carolina) — A flatland swamp with some of the easiest hikes around.
56. Cuyahoga Valley (Ohio) — This National Park is interspersed with a town, full of roads that lead you into and out of the park boundaries at random. It has a rustic feel, with a lot of beautiful plant life, plenty of butterflies and bees, a passenger train system, and some really quiet bike trails. Honestly, it seems like a stereotypical American grandma's dream community.
57. Kobuk Valley (Alaska) — This deeply remote wilderness park is home to the Great Kobuk Sand Dunes, the largest active dune field in the Arctic. While interesting to see, we felt that it contained less natural beauty than its neighbor, Gates of the Arctic.
58. Mesa Verde (Colorado) — This park is an anthropologist's dream, if you're into that sort of thing. You'll see a bunch of ancient cliff dwellings and learn about the progress of a civilization over thousands of years.
59. Lassen Volcanic (California) — Ever wanted to smell an ugly pot of bubbling sulfur water? This is the park for you! In all seriousness, it's definitely a very peaceful place where you can easily find solitude and silence.
60. Guadalupe Mountains (Texas) — Come to this park ready to do some challenging hikes with massive elevation changes. The park roads don't take you far, so prepare for exercise. That exercise pays off in the form of nice views from high vantage points.
61. Voyageurs (Minnesota) — Take one of the inexpensive boat tours offered by NPS while you're here. It's the most fun thing to do in the park, and the breeze will keep the bugs off you.
62. Gateway Arch (Missouri) — We had fun here, but why is this a National Park? It's a tiny area in the middle of a big city. It's a city park. The museum is really nice and gives an honest look into American history.
63. Hot Springs (Arkansas) — Hilariously, this was the first National Park we visited on our journey, and luckily it was just all upward from there. It's a very nice city park, but again, it just didn't live up to "National Park" status for us. We got a really cool picture there, though!
Closing Thoughts
As much as we'd like to say that this is "the" definitive ranking (like the title suggests), it honestly isn't, and no list ever could be. First of all, most of these parks could easily be explored for an entire month on their own, and we spent between 1 and 4 days in each one, so there's a ton of stuff we missed. Secondly, no matter how hard we try to be objective, our own personal preferences and experiences will creep into our opinions. Don't take this list too seriously, but definitely do let it motivate you to get out and explore our parkland!
If you'd like to learn more about our experiences in the parks, our National Parks page is a really good jumping off point. If you're just wondering how the hell we afforded this trip in the first place, well, we're glad you asked! This site is actually all about how some unique personal finance habits can allow you the freedom and flexibility to do more of what you want with your precious time on this planet.
We invite you to read our article detailing how much the trip cost and how we paid for it. Then, if you think you'd like to set your life up in a similar way, try taking a deeper dive into the Money section of this site. See ya around!
— Steven