Our first experience with Australia — besides watching Crocodile Hunter when we were kids — was making friends with a classmate from Western Australia at our high school.
From the stories he told with a heavy accent in TV production class to the pictures of kangaroos and coastlines we'd seen on Instagram, Australia seemed like a place we absolutely had to visit. So this year, we finally did.
Even though Australia has roughly the same area as the contiguous US, it only has one tenth the population, making it ripe for uncrowded exploration.
We figured it would take some time to see such a big country, so with a strategy to make the trip financially sustainable, we decided to stay for three months. But honestly, we could (and probably should) have spent the full six months our visa granted us — Australia is huge!
We still covered a lot of ground though — enough to touch all six states and two of the three territories within Australia's continental border!
Landing in Sydney and a Change of Plans
After about 20 combined hours in a metal tube over the Pacific Ocean, we finally arrived on the other side of Earth in Sydney, New South Wales.
Our original idea for this vacation was to combine the long-form slow travel of our six-month Hawaii honeymoon with the allure of a long-distance road trip.
The plan was to live in Sydney for one month, drive to another faraway Australian city to spend a month there, and repeat once more for a third location. Then, we'd catch a flight home after a relaxing trip. But that's not what actually happened…
As unsophisticated American tourists, one of our first stops after landing in Sydney was the authentic Australian Taco Bell around the corner from our hotel. We were just too curious. 😂
Once that super important task was taken care of, we searched Facebook Marketplace and AutoTrader for a cheap, reliable used car. Renting felt like an unacceptable option, since a 3-month car rental would cost nearly $5,000 USD. We figured we could buy a used car and recoup all of our money by selling it before leaving the country (which ended up working exactly as expected).
Once we had our wheels, we got out of the city a few times during those first couple of weeks in Sydney. We loved all the hiking tracks overlooking Curl Curl and Manly beaches as well as the ones down to the shoreline and rock pools — definitely not like the Florida beaches back home.
We also hit a few National Parks nearby, including Lane Cove, where we saw our first marsupial of the trip — a wallaby! Lane Cove National Park was pretty close to our hotel, so we popped in a few times to walk the trails and spy on sun-bathing water dragons.
The hiking at Sydney Harbour National Park was plentiful, but a little winding. Even though you're up on a big cliff, you don't actually get great views throughout — just at the beginning and end. I guess that explains why so many people were picnicking in the parking lot.
Probably the most famous National Park near Sydney is the Blue Mountains. They reminded us a lot of the Smokies in the US, with the hazy fog imparting a bluish hue over the forested mountains it obscures.
There are several little mountain towns along the main highway that cuts through the Blue Mountains, and they all have trails you can take to go deeper into the park. We chose Katoomba as our starting point so we could take the iconic Three Sisters Walk over the Jamison Valley. Very cool views, but you'll find thinner crowds the further you hike from the main vista points.
The Sydney area was nice to explore, but after staying there for a couple of weeks, we were itching to get on the road as soon as possible and see more.
That's when we completely re-imagined our plans and set an ambitious new goal to visit all 6 Australian states — spending a few days at a time in the most interesting places along the way.
To achieve this, we were really gonna have to pick up the pace, but suddenly our trip felt less like a vacation and more like an adventure.
Visiting the Australian Capital Territory on the Way to Victoria
Our trip to the Blue Mountains was one of the last things we did in New South Wales before heading south toward Victoria. We veered a bit inland to go to the Australian Capital Territory (ACT) — home of Canberra, the nation's capital city.
Just like the District of Columbia (home of Washington, D.C.), the ACT isn't a state, but it does have heaps of free museums to visit! We enjoyed hopping from gallery to gallery during our day in Canberra.
From there, we beelined back to the coast to visit Jervis Bay, another Australian territory. While it's quite small at just 102 square kilometers (39 square miles), it's home to two National Parks and a marine park! We stopped to visit Cave Beach at Booderee National Park, and even though there were quite a few people camping and hiking, it still felt pretty undisturbed.
Cave Beach was also where we got to see our first kangaroos — including a couple mommas and joeys! The animals at Booderee seemed fairly accustomed to humans, so we were able to get close enough for good pictures without bothering them.
The rocky coastline, the blue water, and the kangaroos added up to a very Australian experience. It felt like what we'd wanted this trip to be all along.
Next, we hopped on the A1 to head south toward Victoria. There's not a ton of development in this part of the country — just small towns. We gauged the size of the towns by the types of stores and restaurants they had. If there was a McDonald's (or Macca's, as it's called Down Under) and a proper grocery store (like Woolworth's or Cole's) on Google Maps, we knew we'd find plenty of other resources, too.
Eden was our last stop in New South Wales, and we had a lovely time walking the beach and using the outdoor gym equipment set up beside the paved foreshore trail.
In the US, most people go back to their homes or hotels before sunset, but in Australia, a lot of people stay out to enjoy the best time of the day. Rather than being the only people left at the beach as we're used to, we ended up being among a handful of folks out at that time.
It's something that continued to surprise us throughout our trip in Oz — just how many Australians actually like spending time outdoors. Americans could learn a thing or two.
We were only in Eden for one night, and then we got back on the road. As we followed the meandering highway into Victoria, we crossed our first state border. We stayed in the town of Sale for a couple nights and really loved how walkable it was with plenty of parks to pop into.
From Sale, we took a detour out to Wilson's Promontory National Park, which had been highly recommended by nearly everyone we encountered on this stretch of the road trip. Once we were there, we quickly realized how right they were.
At Wilson's Prom, the road only takes you so far. But, as we soon learned, where the road ends, the adventure truly begins. It's about 30 kilometers (18.5 miles) from the park entrance to Tidal River, one of the more developed campgrounds at the Prom that marks the end of the road. If you look at a map, though, you'll see much of the park and many of its trails are not anywhere near the road. Even the trails that start from the parking areas off the main drag take you far from the road.
We spent our time at the park doing the Prom Wildlife Walk (sadly no wildlife sightings, just a lot of annoying bugs) and then taking in the clear, blue waters down at Whiskey Bay. I suspect you'd see more wildlife at dawn or dusk, especially because Wilson's Prom is home to a large concentration of wombats. Since we were there midday, we spent most of our time at the beach.
Before it was too late, we got back on the road for a short drive to a campground just a few hours outside the park to meet up with our high school friend for the weekend (he'd moved back to Australia since the last time we saw him). We got there in time to set up camp before taking in the sunset.
After a camping weekend catching up with our old friend, we headed into Melbourne for a bit to see the city sights. Melbourne was probably our favorite of the major cities in Australia, and it reminded us a lot of some of our favorite spots along the southern California coast. There was a laid back vibe as people enjoyed the walkability of the city and its proximity to the ocean.
The next couple days, we went to almost every museum in Melbourne as well as the botanical garden nestled between them all. It's weird to say this, but being in a big city felt like an "escape" from the isolated natural landscapes we usually hit up. But after a few days, we had to get out of there. So we took a ferry to an island that's 48% parkland and wilderness.
The Tasmania Detour that was Totally Worth It
While the most efficient means of getting to Tasmania is a couple-hour flight from Melbourne, we decided to take the eight-hour Spirit of Tasmania ferry from Geelong, Victoria, to Devonport, Tasmania. But we had a good reason!
Hopping on a ferry meant we could take our car with us instead of renting one on the island or having to Uber around to all the remote places we wanted to visit.
We drove our car onto the ferry early in the morning and didn't get to Tasmania until sunset. The ferry ride itself was pretty nice, complete with onboard entertainment, food, and of course, barista-made coffee (Australians can't live without good coffee).
Our late arrival turned out to be perfect timing for spotting penguins at the Lillico Beach Conservation Area nearby. Apparently, they return to shore every night after spending the day at sea.
We were right up close to the penguins, and it was dinner time for them, so we got to watch the adults feeding their fluffy chicks.
After that wildlife encounter, we continued to our hotel, which we booked a little closer to our next stop, Cradle Mountain National Park. The drive to the park the next morning was just the change of scenery we needed — a shift from the flatter mainland to a countryside of rolling hills and distant peaks. As those distant peaks grew larger, we noticed the weather started to get a lot cooler, which we weren't entirely prepared for.
We decided on an easy 6-kilometer (3.7-mile) hike that looped around Dove Lake at the foot of Cradle Mountain. As the sun finally broke through the clouds in the afternoon, we were able to shed some layers and enjoy the very comfortable temperature as we took in the views. Then, on the tram ride back from the trailhead to the parking lot, we saw our first (and only) wombats!
From Cradle Mountain, we drove through Queenstown before settling in Hobart, the riverside capital of Tasmania.
We loved Hobart because it had just enough downtown life while being a relatively small city. There were also plenty of biking and walking paths all around Hobart in addition to a collection of museums and galleries. Our favorite experiences were playing around on the grounds of the Museum of Old and New Art (MONA) right by our hotel and learning all about Antarctica at the Tasmanian Museum and Art Gallery.
The very best afternoon we had in Tassie was at Tasman National Park. We drove out to Fortescue Bay to hike the Cape Hauy Track. It took us a little over four hours to complete the 9-kilometer (5.5-mile) trail as we stopped quite a bit to photograph 360° views of the rocky outcroppings that dotted the Tasman Sea.
With 4,000 stair steps, the hike itself was a little more than we bargained for, but it was well worth the many ups and downs. We didn't pass any other hikers on the trail — it was just the two of us atop the dolerite columns and the distant sounds of waves crashing 100 meters (328 feet) below.
We got to the narrow turnaround point of the out-and-back trial just before sunset. Once we got to the viewing platform, complete with handrail, we finally worked up the courage to look over the cliff's edge.
On the way back, we were treated to a spectacular sunset and arrived at our car just as the darkness of night started to settle in.
I had another big hike planned for us the next day, but we were both still pretty worn out from all the steps we climbed at Tasman, so we headed to Bicheno instead to see the orange-hued granite rocks of the state's east coast. Our Airbnb was right by the Bicheno Blowhole, so we walked atop the big boulders lining the beach to check it out.
That night, though, we discovered we weren't alone. A local penguin colony had apparently made a home beneath the A-frame cabin we were staying in, and we could hear them as they came back to shore to roost.
We spent the next day driving up the coast to check out some more beaches before heading back to Devonport, having yet another evening penguin encounter, and catching the ferry back to Geelong on the mainland the next morning.
Best Drive in Australia: The Great Ocean Road
We spent the following days in Torquay, Victoria, the legendary surf town that birthed the brand RipCurl and serves as the official start of the Great Ocean Road. It was a cute little town with everything you need for a beachy getaway. And after a couple days unwinding from all the driving in Tasmania, we were ready to get back in motion.
We barely made it down the road when we saw a huge echidna hanging out just inland from Bells Beach. He was rooting around for food along a fence line and didn't seem to mind us much, as long as we kept our distance. When Steven moved a little closer for a photo, the echidna suddenly curled up into a spiny ball for a minute before going back to looking for lunch.
Not too long into our drive, we noticed some storm clouds rolling in. We stopped for a burger (and gelato) at a little town called Lorne to wait out the worst of the weather before continuing to our hotel in Apollo Bay.
Luckily, after the downpour, it mostly cleared up, and we were still treated to amazing views for the rest of the drive. Before sunset, we made our way out to Great Otway National Park to try and spot some koalas (they're more active at dusk and dawn).
We turned down a side street in the park and crept our way toward Shelly Beach, peering into the tall eucalypt trees reaching high into the sky above us. I kept telling Steven to drive slower so I could carefully check each branch for any anomalous blob that might, upon further inspection, be a koala.
After a few false blobs, we finally spotted a koala overhead! We listened to the light rustling sounds of the wind through the trees and watched the koala munch leaves for a while before turning in for the night.
The next day, we continued on the Great Ocean Road toward the famed Twelve Apostles, off the coast of Port Campbell National Park. These limestone sea stacks were formed by millions of years of erosion, and only eight of the original nine stacks still stand today. To be honest, there were better areas to pull off in the park than the official Twelve Apostles viewpoint, but they're all close enough together to spend a little time at each one (which is what we did).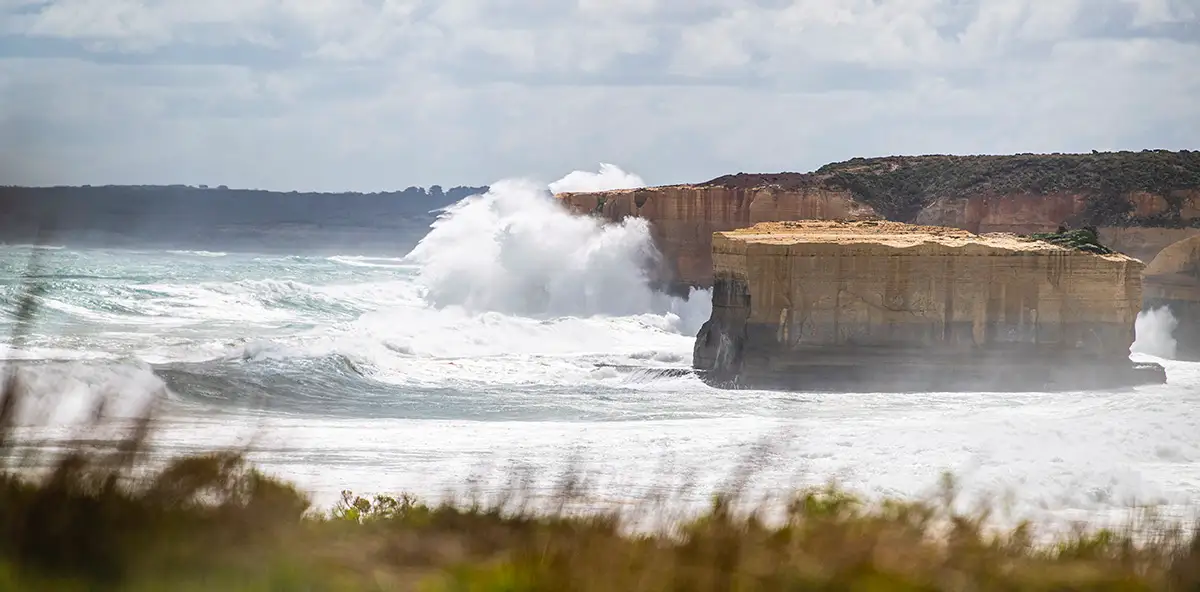 We stared into the white, churning sea as it battered against the richly colored rock face beneath the shining sun. It was bright and bold and loud — the mesmerizing kind of experience you don't want to end. Tourists came and went as we meandered through the park, taking in the different limestone facades at each overlook.
After driving all 240 kilometers (150 miles) of the Great Ocean Road, we agreed it was one of our favorite road trips to date. As big of an attraction as it is, this stretch of highway still felt intimate and special. No giant highrises along the coast, no tour buses parked at the vista points, and not many big brands pushing out little restaurants and shops in the small towns along this coastal drive.
Getting Through South Australia to Reach the West Coast
Our next stop after the Great Ocean Road in Victoria was to continue westward to the nearest big city — Adelaide, South Australia. It took about a day of driving backcountry roads to get from Victoria's coast to Adelaide. As the capital of South Australia, it was a pretty big city, but smaller than the other Australian capitals we'd visited so far.
We spent some IHG hotel credit card points to stay a few days and catch up on blogging and trip planning before heading off again.
Shortly after leaving Adelaide, the level of civilization took a major nosedive. It was a lot of nothing between the small towns on the way to the Western Australia border. And unfortunately, all of the awesome pink lakes I had planned for us to visit along our drive had dried up for the arid summer season.
We inched along the Eyre Peninsula, which kept the drive pretty coastal, and we were treated to some pretty incredible and undisturbed views — including our stop at Coffin Bay National Park, the reef overlook outside of Elliston, and the roadside Talia Caves.
These were all basically in the middle of nowhere, so I get how a lot of folks might not plan a trip to specifically check these places out, but since they were along our route, the brief detours were well worth it.
Most towns around this part of Australia consist of a gas station and — if you're lucky — an eatery (usually all rolled into a single pit stop). Ceduna was the last town we stayed in before taking on the biggest challenge of the trip: crossing the Nullarbor Plain.
Surviving the Desolation of the Nullarbor
In Ceduna, everyone cautioned us against drinking the tap water. Our three-in-one hotel, gas station, and fast food restaurant even gave out bottled water for guests. Luckily, we had saved and refilled all the free water bottles we'd acquired on our trip so far (mostly from previous hotel stays) to prepare for this very moment.
As the name implies, the Nullarbor is devoid of trees — and almost everything else, too. It's a huge stretch of desert with little more than sparse shrubs here and there. It's also extremely flat, so the only good views are the designated stopping areas on the ocean side when the highway hugs the cliffs of the Great Australian Bight.
There are just enough privately-owned "roadhouses" spaced out along the drive to make sure you don't run out of gas, but don't expect super competitive pricing. This entire area is far from every service you're used to: phone, TV, internet, and, yes, sometimes even water. That means you'll have to pay for whatever creature comforts you may be missing — if they're available at all.
As seasoned long-distance road trippers, this drive devoid of amenities was pretty familiar. We ate a LOT of peanut butter and jelly sandwiches, and we were pleasantly surprised to find that the roadhouses near the Western Australia border had a vegetarian dinner option and oatmilk for lattes.
We obviously had to stop at Nullarbor National Park, especially since we were driving right through it anyway, but it was basically just preserved land and not a place with marked hiking trails or a visitor's center.
Like everywhere else in Australia, the most striking feature of this country lies along its edge, where the ocean carves out beautiful beaches from the rugged rockface. Steven aptly described the continent as an "inverted pizza" — where the crust is the best part.
As I mentioned, you can only see the cascading limestone cliffs of the Great Australian Bight at the few places where the Eyre Highway is close enough to peer over the edge. But there's a spot in Eucla, Western Australia, where you can drive down to sea level and hike through sand dunes to the shore.
We didn't plan it perfectly, nor did we realize how long the hike would actually take, but we did end up getting to the beach in time to enjoy the warm colors of a late sunset melting into night.
The way out of the Nullarbor Plain was a gradual ascent back into the civilized world. The first town — Norseman, Western Australia — had two gas stations and cell service, but we were still miles from a Macca's.
Falling in Love with Western Australia
At Norseman, you can either go north to take 94 up and over to Perth (as most do), or you can drive south for about two hours where you'll discover (as we did) one of the best beaches in the world.
The little town of Esperance was our first real taste of Western Australia, and it was the perfect respite after the nothingness of the Nullarbor. It was a large enough town to have some vegan options for us at restaurants and a place to get proper groceries, which was a sight for sore eyes.
We stayed at The Jetty Resort in a room with giant windows that overlooked Esperance Bay, on the western end of the Great Australian Bight. We immediately opened them up to let in the crisp breeze off the water.
A seaside walking trail traced the beach for miles, and there was a pier just across from our hotel room that took us all the way down to the splashing waves.
Less than 10 miles from our hotel was Twilight Beach, a stretch of white sandy shoreline off Twilight Bay with massive rock formations that folks were jumping from into the cool, blue water.
It's important to note that almost every beach in this part of Western Australia is just as nice. If you look at a map of this area, you'll see green patches designating natural spaces everywhere from the highway to the coast, so no matter where you stop, you'll likely pass through a National Park or reserve of some kind. This region of Australia is so nice, they seem to have protected most of the land so it could stay that way.

Our next stop, Albany, was about five hours down National Route 1. While there were plenty of great beaches and parks along the way, we mostly stuck to exploring the area around Albany, including our favorite spot there — Cable Beach in Torndirrup National Park.
Another cool place we spent some time on our scenic route to Perth was Greens Pool at the edge of Williams Bay National Park — home to even more massive boulders resting out in the water.
Since the waves crash and break against all the huge rocks around here, the swimming areas stay quite calm. It's fun to wade into the shallows, climb up onto a big boulder, and watch the ocean splash and spray around you.
After that, we went to Walpole-Nornalup National Park to do the Tree Top Walk. I tested my fear of heights, and it turns out I still don't like being too far off the ground.
On our way to Perth, we passed through Dunsborough to stay with a friend for a few nights, but we briefly stopped at the Busselton Jetty to walk the longest timber pier in the Southern Hemisphere. It's 1,841 meters (6,040 feet) long and has a natural aquarium at the end that you can walk down into and view the fish and coral that have made a home of the pier's wooden pillars.
We made it to Perth in time to see one of Steven's favorite bands, Pavement, live at the Perth Concert Hall. When we bought the tickets, we knew it would be the turnaround point for us at about halfway through our time in Australia. It just so happens that Perth is the furthest major city on Earth from our hometown in Florida, which of course Steven calculated and promptly told our parents when we arrived in town.
Blasting Back East to Try to See Some of Queensland
At this point, we realized that we'd made a critical error in planning our trip. We originally booked our flights home to America from Sydney, figuring we'd return from Perth using a different route than the one we originally used to go west.
As it turns out, that's easier said than done. There are very few routes between Sydney and Perth, and even fewer if your vehicle isn't 4WD-equipped. So we had to retrace our steps.
We made good time, though, returning to New South Wales in about three days. Granted, it was the outback of the rather large state of New South Wales, but it was progress. We stopped to check out Mungo National Park, and we finally got to the time to do some star gazing (and astrophotography).
We wanted to get to Queensland, and the straight-line path to Brisbane looked pretty suburban and boring, so we decided to drive four hours to Newcastle on the coast and take the highway north from there. We stopped into a few of the bigger seaside towns, like Coffs Harbour and Port Stevens along the way.
Our first official stay in Queensland was Surfer's Paradise. It was really touristy, but still pretty chill. There was a Ripley's Believe It or Not, lots of ice cream parlors, and an endless coastline completely covered in highrises.
We had a great view of the distant mountains from one side of our hotel room and a view of the beach from the balcony, which interestingly enough made it one of our favorite hotels of the trip.
We took a day to go explore the Scenic Rim, which is a collection of stops through the mountains with some of the best views in the area. Unfortunately, those stops aren't on one cohesive route, so we picked a stop and spent our day at Lamington National Park.
There are a few National Parks in the Scenic Rim with a variety of hikes, mountain vistas, and waterfalls to enjoy, but we chose Lamington because of its proximity to our hotel in Surfer's Paradise.
After a few days, we continued north to Brisbane. It's a cute, urban city that's very walkable (even in the rain). We toured some museums, including a trip up into the clocktower, and even found some vegan donuts.
As we parted with Queensland, we found ourselves driving back south along the same familiar highway, and it felt a little nostalgic.
Saying Our Goodbyes and Heading Home
Rather than staying in Newcastle a second time on the drive down to Sydney, we went farther out on Tilligerry Peninsula to Port Stephens. We didn't realize it was home to yet another National Park, although honestly, the vast, undeveloped coastline on the map should have made it obvious.
We were just three hours from Sydney at this point, so we drove back with plans to sightsee in the city before leaving the continent. When we got to town and listed our car, it immediately sold (for more than we paid!).
Luckily, there was plenty of public transit to get us downtown to check out the Opera House, library, botanical gardens, and a few more galleries.
We even figured out how to take the buses to the famous Bondi Beach!
While we both agree that we should have stuck to our original plan to spend more time in fewer places, there is really only one way to learn which places are worth staying in. And that's what we did.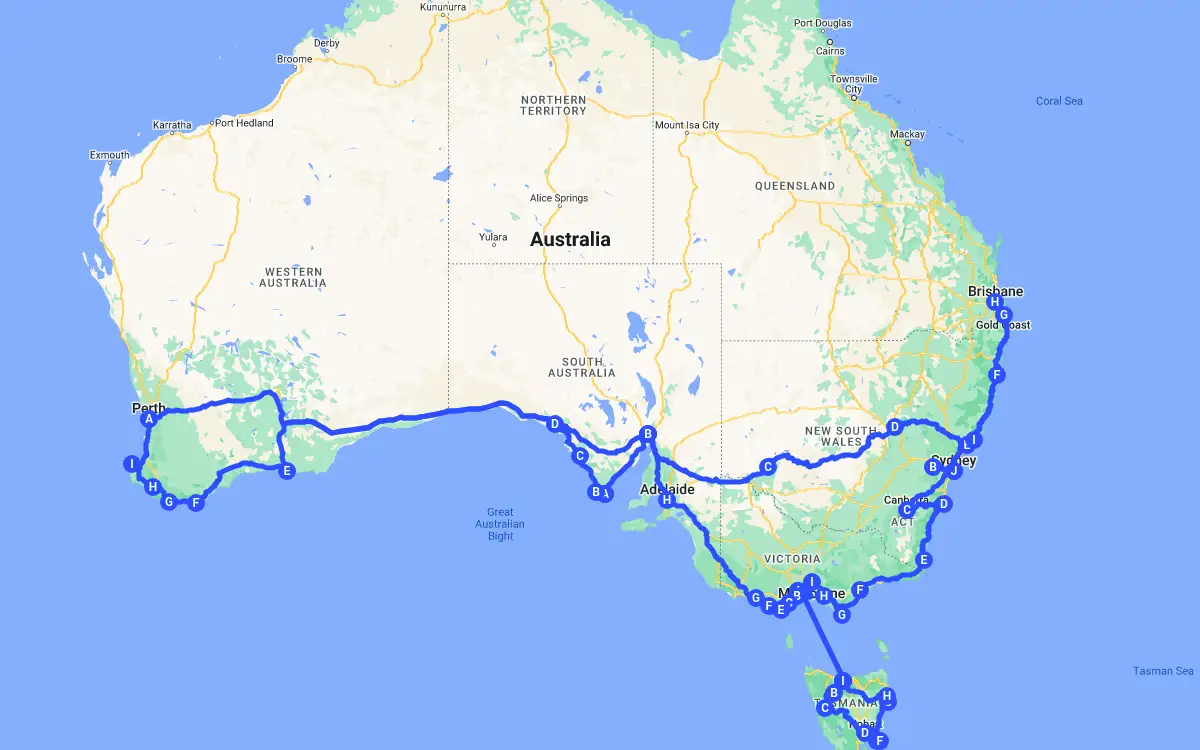 Whenever we return, we'll definitely be spending more time exploring our favorite states — Tasmania and Western Australia. But maybe we'll also go during winter so we can check out more of the North when it's not monsoon season!
— Lauren